I'll begin this article with a little review. H. B. Oliphant's building in the 600 Block of Colony was built 100 year ago in 1923. Starting on the south end of the building was the Oliphant brother's creamery; next to it on the north, was the Vienna Bakery, and next to it was the Gem Restaurant. The north end of the building was originally occupied by Otto A. and Cora Oliphant McKillip.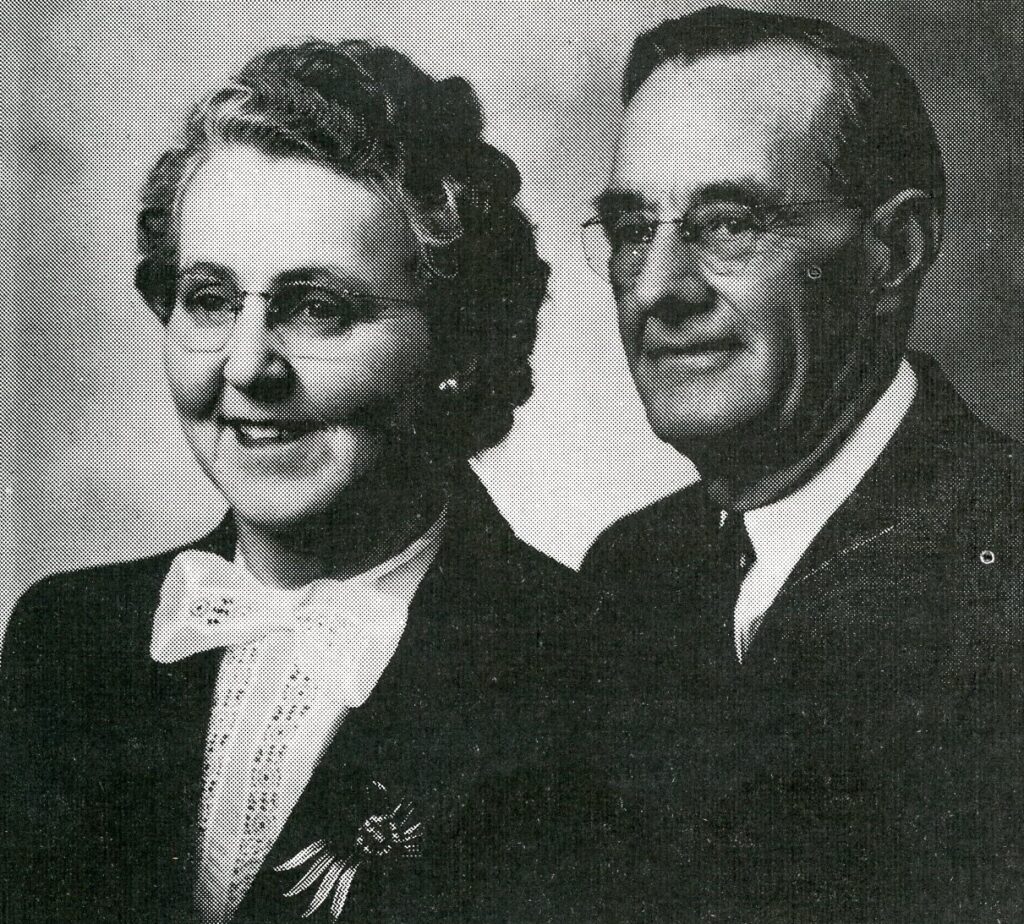 O. A. McKillip came to Kinsley in 1914 to work in Edwards, Noble & Company's mortuary. He had graduated from Williams Institute of Embalming and Sanitary Sciences. He met Cora Oliphant, the only daughter of H. B. Oliphant, and they were married on Sept. 27, 1917. Cora was a 1913 Kinsley High School grduate, attended Kansas State Normal School at Emporia, and was teaching in the Southside School.
In July, 1922, O. A. and Cora bought the mortuary business from Noble, and in January 1923, he temporarily moved it to the Cole Furniture Store (623 Marsh Ave., McKillip Funeral Home's present location). When the new Oliphant building was finished that spring, they relocated on the opposite end of where Cora's brothers ran their creamery.
The McKillips realized that the undertaking business was not going to be enough to sustain them. After much consideration, they decided to open a gift shop on the main floor in the new location. There was not a gift shop in Kinsley or the area. The funeral parlor was located on the second floor along with H. B. Oliphant's Real Estate office. Cora McKillip also became a licensed funeral director.
West Side Gift Shop opened on June 30. The walls were painted a soft pearl-gray and the ceiling was a delicate green. On the north side there was a fireplace with a fine English hearth rug on the floor with candles and vases on the mantle.
The shop carried goods from England, Holland, France, Japan, and cities around the U.S. "…the vases and bowls are a joy with their lovely color and design, and there are some new and unusually good candles and lamps of all kinds, from those for the mantle to bridge lamps which are so convenient for reading. Baskets for all purposes, flowers, waste paper, sewing, and others for just ornament, make up a display in themselves. Costume jewelry in the new novelties, and books end, place cards for all occasions, and fine stationery are part of the stock. Japanese panels, parasols, napery (linens), and toys are most colorful and interesting." (Kinsley Graphic, July 5, 1923)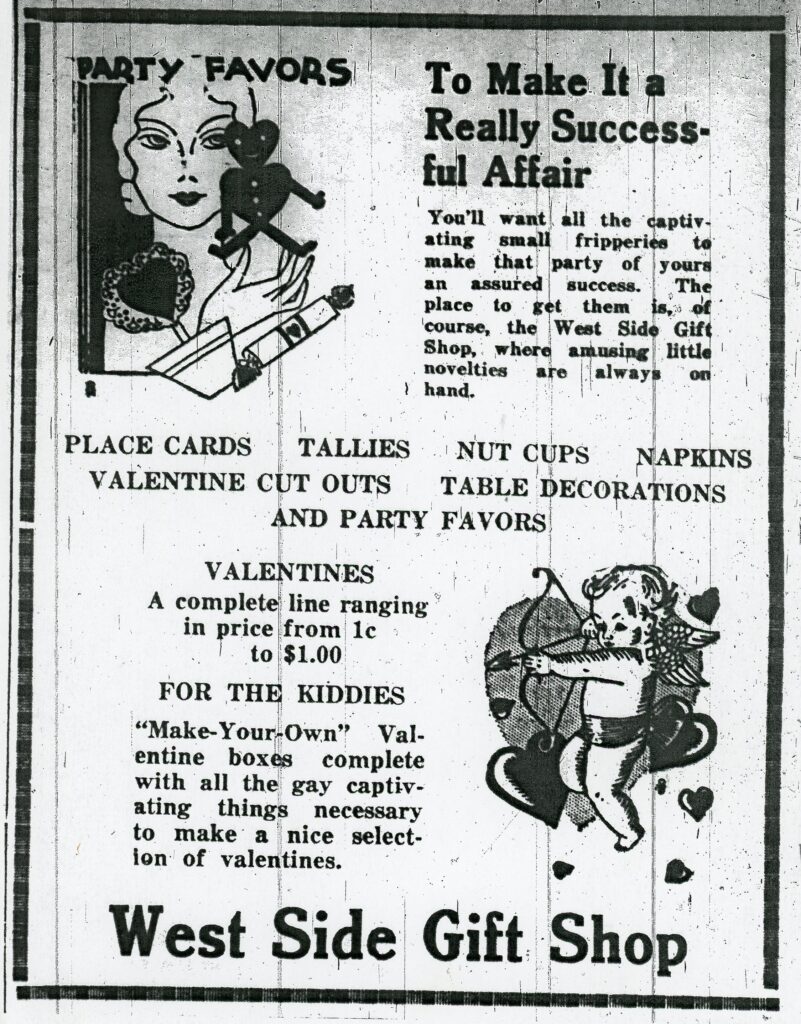 McKillip's second-floor mortuary was equipped for funeral purposes to better meet the needs of Kinsley and outlying areas. The Mercury described the rooms.
"A pulpit and choir section occupy the east end of this room, which is arranged at this time to accommodate about 75 people….The display room for caskets and other undertaking supplies are to the west of this main room, while the operating room is a nice light airy space to the north….An elevator at the rear makes it possible for all of Mr. McKillip's supplies to be placed on the second floor with a minimum of labor."
McKillip also maintained an ambulance service. "Very often people become ill and it becomes necessary to take them to a distant city for treatment or an operation. When such is the case it is very often difficult to provide adequate transportation for the patient. Mr. McKillip has taken care of this by having a modern ambulance equipped with cot and facilities for making the patient comfortable on long journeys." (Mercury, March 21, 1929)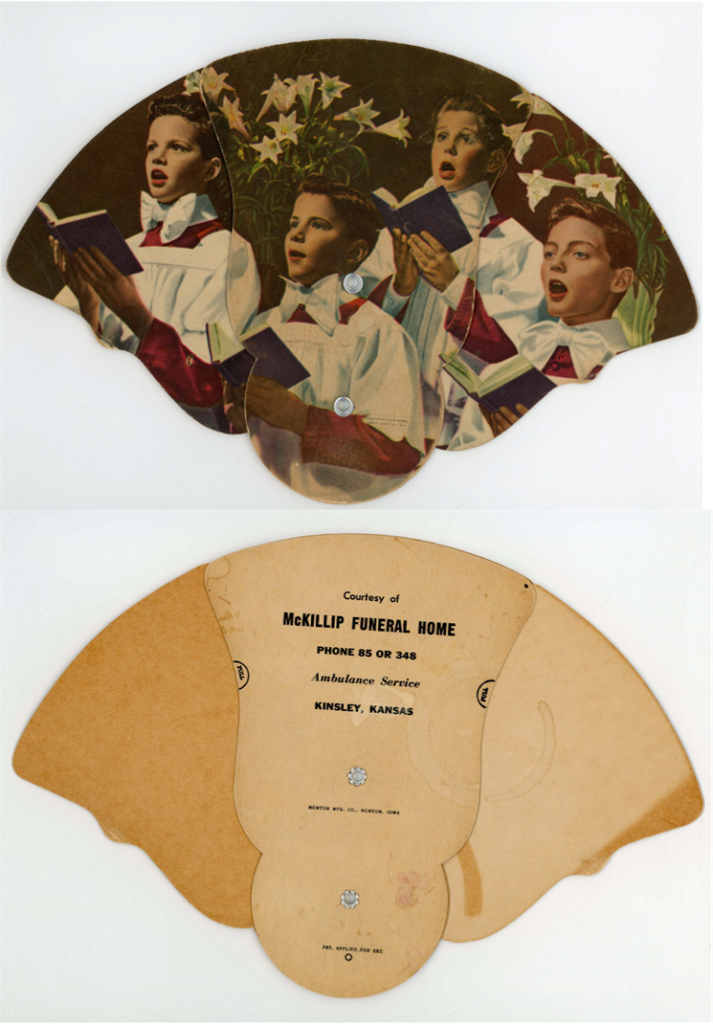 The gift store and mortuary remained at this location until the spring of 1942 when they remodeled and moved into the Cole Furniture Store which they had purchased. The business has remained at that address ever since and is in its fourth generation of family funeral directors.
McKillip has maintained their mortuary records through all these years. When I'm doing research, I often call to learn information about people and burials. It is a very valuable historical resource.
The July 5, 1923 Mercury article ends in this manner. "The Oliphant block is truly a bee hive of industry, and affords quarters of commodious proportions, wherein business in each instance may be expanded and there will be sufficient room. It was one of the good fortunes of the community that this location fell into the hands of these people whose faith in the future of this community was such that they were willing to make a generous investment both for themselves and others to carry on in a business way for bigger and better things."