When Oliphant's 1923 building was constructed, the Midland Hotel (618 S. Colony) was already there on its north side. It had been built and opened by Charles T. Turner in March, 1906.
Charles Turner was born in 1872 and was left as a baby in a Kentucky orphanage. During his lifetime, he spent much time trying to find his mother, but never succeeded.
He served as a private in Company D of the Missouri Infantry stationed in the Philippines during the Spanish-American War.
According to Charles, he first came to Kinsley about 1902 with a vaudeville troupe which became stranded. He would laugh and say that his singing was "pretty terrible", but he held the job for several months. If this is the truth or not is not known, but what I have recently discovered using www.newpapers.com is that he failed to mention some nefarious activities.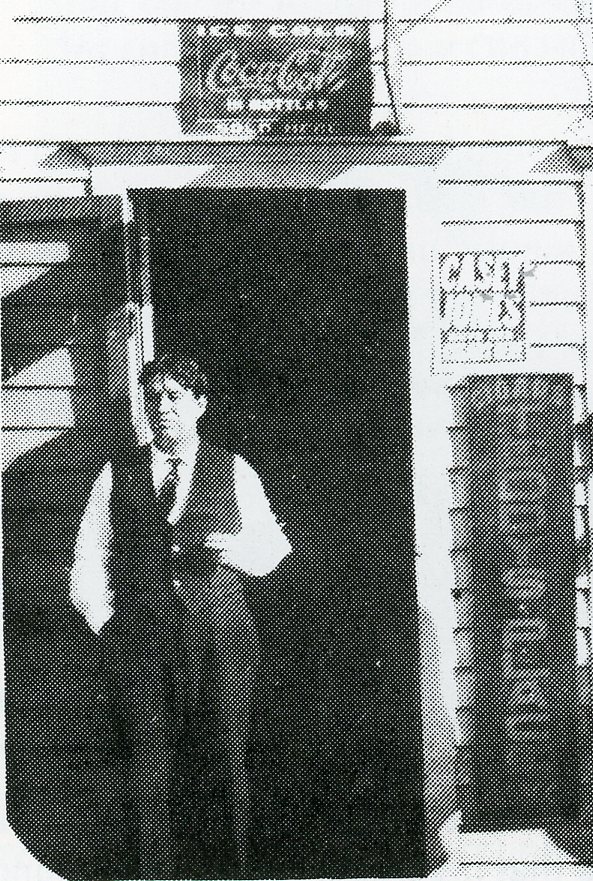 In 1903, he and a woman he called his wife showed up in Fort Collins, Colorado where he opened a barber shop in the front of a building while they lived in the back.
Soon there were rumors that the Turners were running a "joint" (house of prostitution) known as the Casino restaurant. It took the law some time to get evidence, but when they were caught soliciting a drunken Mexican, they were arrested, fined, and served out their sentences in jail.
On Nov. 20, 1903, Charles married the woman, Mary Ada Chenoweth, in Lamar, Colorado. In February, 1904, when Charles was about to be charged again, this time with check forgery, the sheriff let him go with the promise he would leave the country. Which he did. I'm not sure what happed to Mary Ada at that time.
We find Charles in Kinsley in 1904 running a restaurant. An anonymous letter written to him on August 20, 1905 was found in his effects after his death. It accused him of having a "Whore House and Joint". It gave him until the next day "to leave this town and stay away. You have run your robber's roost long enough." This was perhaps the beginning of the rumors and mystery that surrounded him even after his death in 1936.
He was not scared off. In October, 1905, he bought two lots on South Colony with plans to build the Horseshoe Café and Hotel, a 24' X 36', two-story "cement block building for a first class, up-to-date smoke house where lovers of a good smoke can get first-class cigars, tobacco or pipes at all times for a reasonable price."
Less than a month later, in November, 1905, he sold out everything and become a traveling cigar salesman. But by March, 1906 he was back to build and run the Midland Hotel.
In the ensuing years, the hotel had several proprietors and managers as Charles would come and go with various enterprises in Oklahoma, Texas, and southeast Kansas. Even when he sold the hotel, it always seemed to come back to him.
It does not appear that Mary Ada ever came to Kinsley, and Charles and she were divorced in 1909. In 1911, he married Nettie Ward in Bartlesville, OK where they lived. She did come to Kinsley at least once in August, 1915 when he came to check on his property. Nettie died of the Spanish Flu in 1918.
In January, 1921 Charles returned to stay and run the hotel which he renamed the Santa Fe Trail Hotel. He advertised it to be a clean, modern place with reasonable prices, but the fifteen-year-old building appears to have been a little run down and in need of paint, wall paper, and a new porch.
By April 1922, Charles ran an ad in the Kinsley Mercury: "The Santa Fe Trail Motel is at your service. Look me up, if you want to sell something. See me if you want to buy something. Call me up if you need help. I will get it for you. Service is free. My phone is 43. Charley Turner".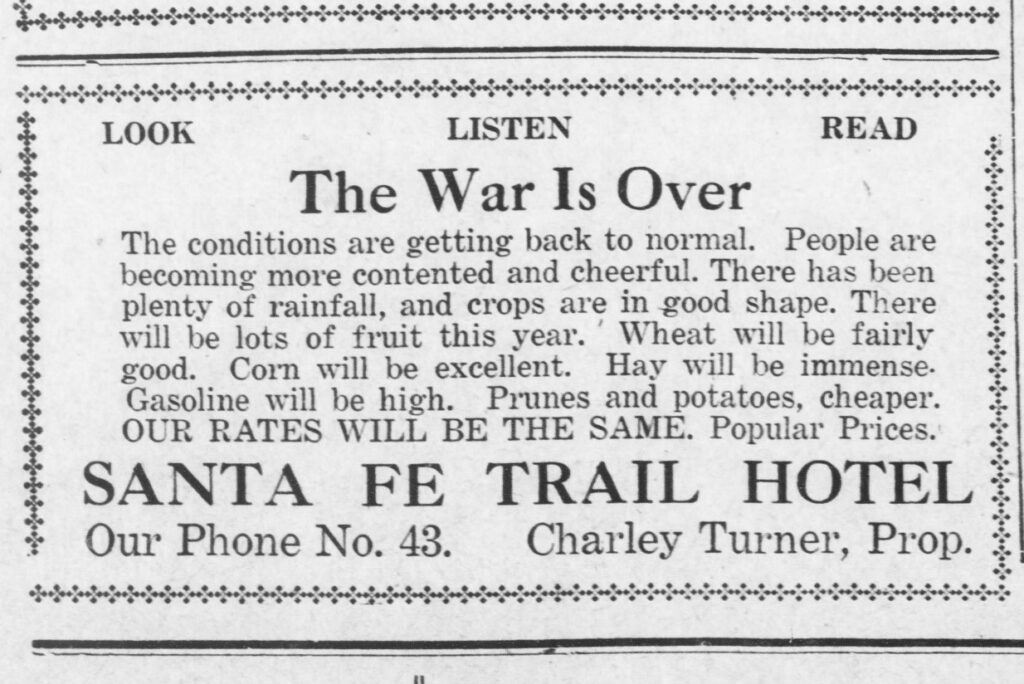 Charles also had a cream station the first door north of the hotel. You could bring your cream in and Charley would "test it and pay for it in one hour …Cash on Delivery''. Another ad said, "You do the milking and we'll do the paying". I wondered if the Oliphant creamery which would soon relocate on the south end of the same block affected his business? At any rate, when the new Oliphant was built in 1923, Charles was running the hotel.
I'm afraid I have to leave Charley Turner's story there until next week when I'll tell you what we know of the rest of the mysterious story on the Oliphant block.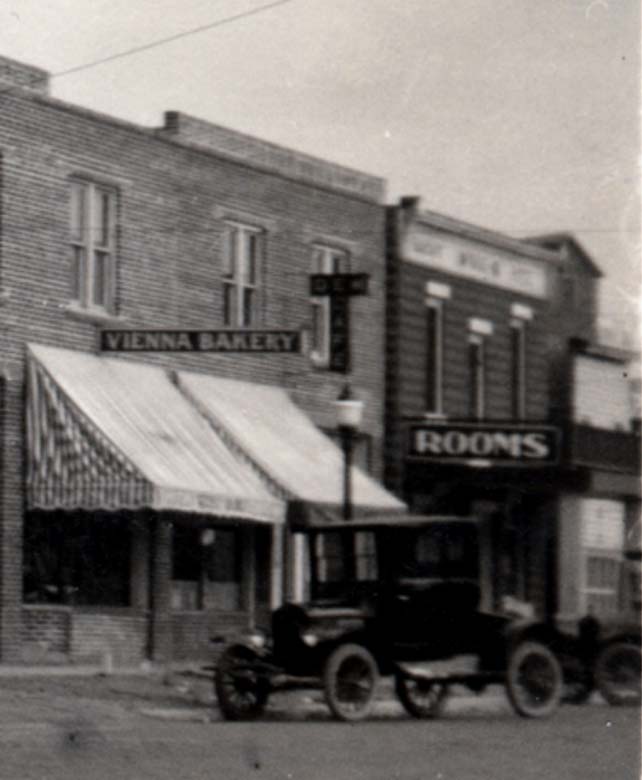 Detail from the Oliphant Building postcard
with the "Rooms" sign of the Santa Fe Trail Hotel.