Last week's "Spudnut" article really drew a lot of attention on Facebook. Many people wrote comments about eating them before and after school, during open-lunch, at sports and play practice. They remembered how they were always warm and their wonderful smell. Here's a few of the comments that were posted.
Lisa Cornelius-Sparke: "My Great Uncle Ed Troutman owned the Spudnut Shop when it first opened and painted Mr. Spudnut on the building."
Sherry Miller: "I remember visiting my grandparents and eating those delicious donuts! Always loved the painting on the building and the funny name!"
Bev Byrne: "I had to keep an account of how I spent my allowance in Jr. High. 10 cents, Spudnut; 10 cents, Spudnut; 10 cents, Spudnut; over and over. Caramel cinnamon was my favorite, bought just after getting off the bus from Offerle."
Kim Eslinger Pepperd: "Ed Troutman used to let me have the drops of caramel frosting that dropped off the cinnamon rolls and landed in the pan below. Just a piece of heaven."
Nancy Shreve Craft: "Love this. We got Spudnuts and ate them on the bus to Offerle when I was in Jr. High. Soooo good!"
Tom Barnes: "I remember mom binging them home after bowling in Kinsley…They were always a treat! warm and delicious!"
Lori Henning Pine Clark: "Every time we would go to the Dr. in Kinsley, we'd stop in and get our bag to go…absolutely delicious!"
Cathy Rehmert: "They were the best doughnuts in the world. Have never tasted one as good as they were."
Loren J. Pepperd: "I gained a pound every time I ate one!"
Would you believe that over eight thousand people enjoyed sweet memories of Spudnuts on Facebook, a record for "Remote Librarian" posts.
This week marks one year and 52 articles that I have written about our interesting local history. I began when we had to close for a month because of the pandemic, hence the name of "remote" librarian. I loved doing the research and making discoveries. I hope I have opened up the extensive local history resources available to you at the library and on the website.
Now with summer just around the corner and vaccines bringing the pandemic a little under control, the library plans to offer an extensive, in person summer reading program. This has already begun to take over my time, so I will not be writing a weekly article. I very much appreciate all the assistance you have given me in research and all the kind words of appreciation you have offered me during this past year.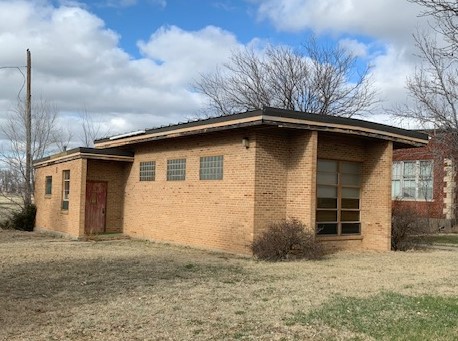 That being said, I would really like your help with the last topic I had thought about pursuing this week. When I came to Kinsley, the superintendent's office was in the little building west of Lincoln (Northside) Elementary School on the corner of Colony Ave. and First St. It was originally built in 1949 to serve as the hot lunch cafeteria for Kinsley's two elementary schools, both the junior and senior high school and St. Nicholas Parochial School. Students were bussed there in shifts, and high school kids jumped in their cars and drove. It was the lunchroom until 1964 when the existing cafeteria addition was built at the high school.
How this small building accommodated so many kids baffles me? How many kids took advantage of a hot lunch and how long did they have to eat? Who were the cooks and how was the food? Did some kids bring their lunch, and if so, where did they eat? Did some kids go home? Knowing teens, I imagine there were some adventures or shenanigans (besides buying Spudnuts) going on during that open lunch period. Can they be told?
I hope you will share your lunchtime memories with me on Facebook, by coming by the library, calling 620-659-3341 or emailing director@kinsleylibrary.info. If I get a good response, I just might have to write Column 53. And perhaps the "remote" librarian column will reappear next fall as the "research" librarian.