"Best go-to place in the world for lunch and after school," Ed Carlson.
"Very good! Habit forming. We got out of school for the noon meal, and we'd skip over and get them." Ted Taylor.
Those are a couple replies I got when I asked people, "What was Spudnuts?"
Many years ago, Rosetta Graff had brought in a 1964 picture of the Mr. Spudnut shop that her daughter, Miriam, had taken in high school. Rosetta told me it was located in an old Sinclair Station, on the corner of Colony and 8th St. across from the high school (small, empty lot east of old Sunflower Hotel). But I still didn't understand exactly what it was, so when I was looking for a topic this week, I decided to find out.
Wikipedia told me that Mr. Spudnut was a franchise business begun by brothers Al and Bob Pelton of Salt Lake City in 1940. They perfected a doughnut mix made of wheat flour, dry potatoes, powdered eggs, milk solids and other ingredients. Their stores popped up all over the Midwest, but I never happened to have had the good fortune of visiting one.
I did quite a bit of sleuthing to find out about Kinsley's Mr. Spudnut shop which was owned by Edwin and Hazel Troutman and their son, Ed Jr.
Ed and Hazel Baker had both graduated from Kinsley High School in the Class of 1923. My imagination tells me they were high school sweethearts as they were married on October 19, 1924 by the probate judge in Dodge City. Their marriage announcement in the Kinsley Mercury described Ed as "One of the enterprising young business men of Kinsley who is bound to make his mark in the world." They had their only child, Ed Jr. in 1929.
Ted Taylor told me that Ed was a sign painter. His brother, James Taylor, had painted the original 1939 Midway USA sign 2 miles west of Kinsley on Highway 50. But it was Ed Troutman in later years who would go out and repaint that sign.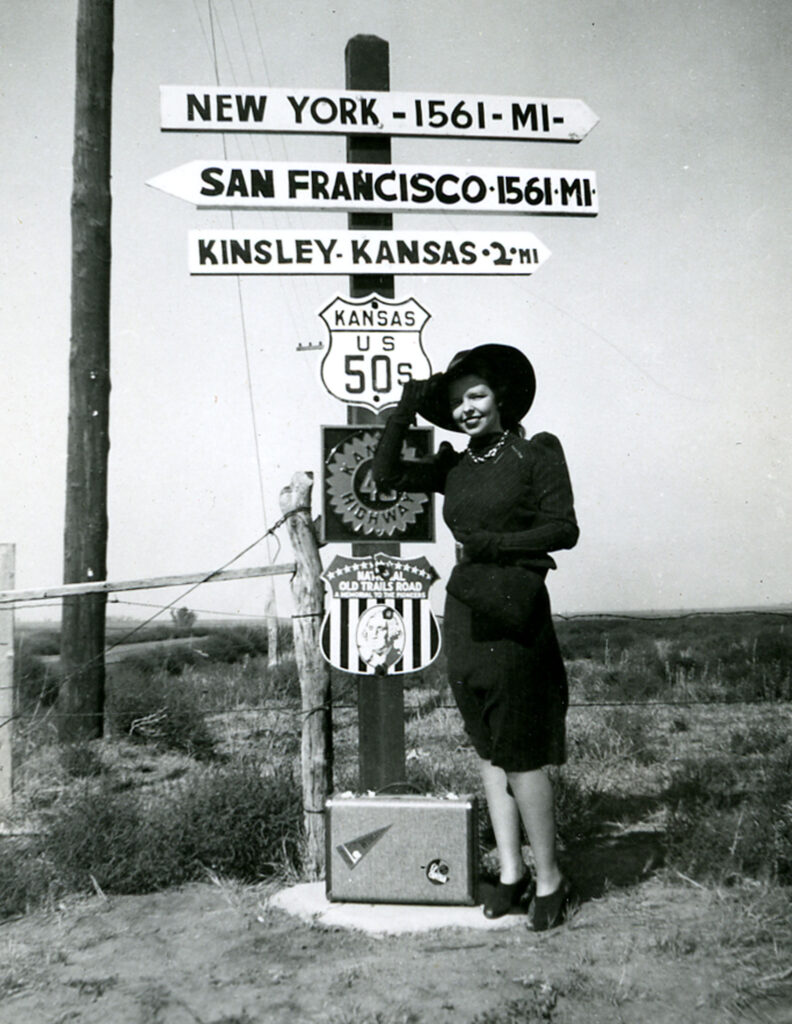 No one seemed to know exactly when the Troutmans started their Mr. Spudnut franchise. I decided to look in our bound copies of the KHS Breezes for an ad. The first one appeared in the November, 1954 issue. That took me to the Mercury on microfilm, and I was lucky. The Nov. 18, 1954 issue reported that Edwin Troutman, his son, and Bill Josefiak of Rozel were hosting a grand opening with free Spudnuts and coffee for their new business on Saturday from 2-4 p.m..
Spudnuts were described as large, fluffy, airy and never soggy or greasy. One reason they were so good was they were always fresh, being cooked at 6:30 a.m., 8 a.m., noon, and 3 p.m. They sold for 68₵ a dozen. Besides regular doughnuts, they also had an apple turnover. The shop had a walk-up window where customers ordered and received their bag of Spudnuts.
The Mr. Spudnut shop disappeared from the Kinsley phone book in 1973 which leads me to believe it closed the year before. Ed died in 1983 and Hazel died in 2003. They are buried together in Hillside Cemetery.
All of this research left my mouth watering, so I decided to make some potato doughnuts. Many recipes are available on the internet, and I settled on one from the 1877 Five Roses Cookbook which was widely published in newspapers across the county. Of course, this recipe uses fresh ingredients, not the dry ones of the Spudnut mix. Maybe you'd like to make some this weekend. (Note: Other recipes use yeast and eggs. Oil temperature should be 165-175 degrees. This recipe makes about 36 doughnuts and holes.)
Potato Doughnuts (eggless)
2 cups hot mashed potatoes
2 cups sugar
1 cup sweet milk
2 Tablespoons butter
2 level teaspoons baking powder
1 teaspoon vanilla
Five Roses Flour to make a soft dough
Mix as usual. Roll out ½" thick. Fry in hot grease. The potatoes keep the doughnuts soft. These keep fresh much longer than if made with eggs.