Identifying Three Unknown Men in an 1890 Kinsley Cabinet Photo
By William F Wolfgang, PhD           
Last week Dr. Wolfgang reported on his search to identify three men in a vintage photograph taken by D. H. Atkins in his studio in Kinsley in 1890. Because he has done extensive research into Kinsley history during the time of Charles Edwards, the subject of a book he is writing, he noticed a resemblance of one man in the picture to Kinsley's longtime Superintendent of Schools, Daniel A. Baugher. In 1890, Baugher was a teacher in Hutchinson. Dr. Wolfgang was able to place him in Kinsley attending a conference of the Southwest Kansas Teachers Association in November, 1890. More research in newspapers.com, led him to discover the names of the other two men in the photograph who were also teachers in Hutchinson.
The Three Hutchinson Teachers
Oliver Winslow Jones (1862-1945) remained a mathematics teacher and a principal for some years in Hutchinson before becoming an accountant in Wichita. He eventually ran for public office, using the postcard below in his campaign. He had four children, one of which, Dr. Donald Forsha Jones, would become a successful geneticist who changed the trajectory of American agriculture. Dr. Jones worked at Harvard, developing the first high-yield sweet corn hybrid.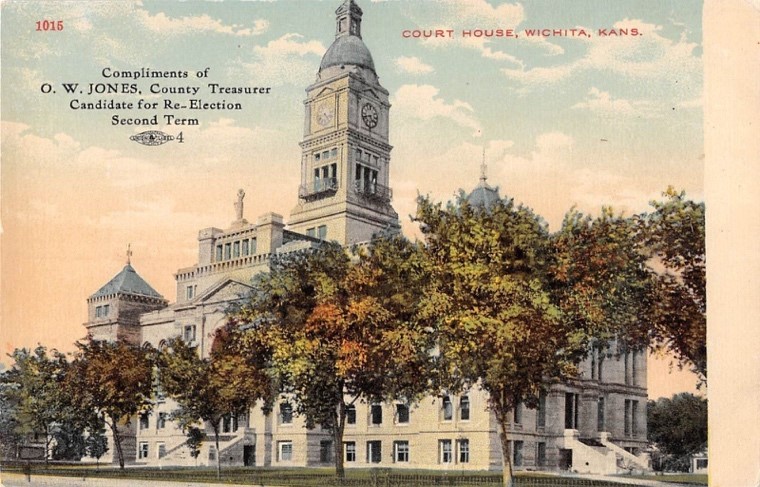 As his successful son redefined agricultural science, the father would fall into disrepute. Oliver Winslow Jones saw an opportunity to make money with a cunning but ill-advised scheme to cover a deficit in Sedgwick County's tax revenue. Despite his best efforts, an auditor noticed his embezzlement of approximately $40,000. After a regionally high-profile trial, a judge sentenced him to five years at the prison in Lansing.
After getting out of prison around 1920, Jones retired with his wife in Kansas City.
Hartwell Sherman Rogers (1864-1948) left his position as a teacher in Hutchinson to become a high school principal at age 27 in Larned. Two years later, he took up his own law office. Next, the young lawyer ran for county attorney in an election where nearly all candidates were defeated by populists. As a result, he was the only local Republican elected in Pawnee County in 1896.
Rogers would later run for state senator but found opposition during the primary process, losing to Fred Dumont Smith of Kinsley. This seat would later be claimed by Kinsley's most famous politician, Democrat Jouett Shouse. Rogers and his wife had at least two children, Ruth and James.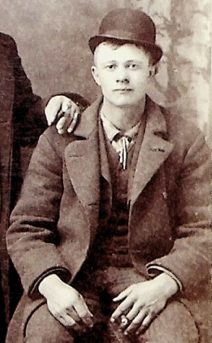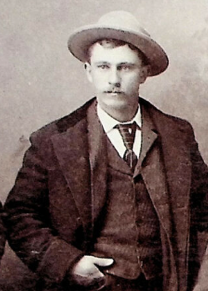 Daniel Alpheus Baugher (1863-1950) was the only man from the photo whose life would be almost entirely devoted to education. As his former colleagues Jones and Rogers moved on to new professions, Baugher permanently relocated from Hutchinson to Kinsley. He became a well-loved teacher, principal, and school superintendent in town for over two decades. As an educator, scholar, athlete, and musician, Baugher worked alongside Charles Edwards, the subject of my book, developing the Kinsley school system and bringing it into the twentieth century.
Baugher was meticulous, joyous, and an inspiration to his students and community. In the 12 July 1911 edition of The Kinsley Mercury, the paper's editor Charles Edwards declared that Baugher would win if Kinsley held a "Most Useful Citizen Contest." In 1922, after triumphantly leading the schools for two decades, Baugher retired and went into a different field. He opened a small grocery store and served the community in yet another way. With his wife, Elsie, Baugher raised two children, Lulu and Howard. 
There's Always Another Mystery to Solve
Kinsey's fascinating past is composed of local and national treasures that should be researched, cherished, and shared, especially during this sesquicentennial year. While some accounts are filled with train robberies, grasshopper plagues, auto thefts, presidential visits, defrauding taxpayers, and record-setting theatrical pageants, others present everyday citizens working to make their community a better place.
As someone who has been impacted by these stories, I'm grateful for all those in Edwards county who have worked so diligently over the years to preserve them.
I look forward to sharing more of my research with the Edwards County community and the rest of the country in the coming months and years.