Identifying Three Unknown Men in an 1890 Kinsley Cabinet Photo
by William F Wolfgang, PhD
– Part 1 –
I first came to Kinsley in June 2019. At the time, I was researching for my Ph.D. on the subject of American theater history. I had recently discovered a footnote in a 1968 UCLA doctoral dissertation indicating that the town of "Kingsley, Kansas" was the site of a remarkable Shakespeare festival.
The basic facts of the event were fascinating, yet, the festival had been lost to history. I needed more information outside of the press coverage memorialized on newspapers.com to learn more.
To fully understand the events of the five-year (1912-1916) theatrical event, I emailed Kinsley's Library Director, Joan Weaver, and inquired about any materials. That began the process of uncovering a truly incredible story.
I soon established that Kinsley was the site of a transformational movement at the intersection of American entertainment, civics, and artistic engagement. There was enough for a book on this intriguing time in America's history! Since last summer, I've been writing life stories and reviewing the work of the festival's director, Kinsley native Charles Edwards (1880-1926), and his family.
My research in Kinsley has been invaluable. Visits to the Edwards County Historical Society, Joan Weaver's assistance, and many others who shared remembrances from an earlier era also significantly contributed.
Since then, I've searched online for the period's Kinsley artifacts to supplement these findings. Sometimes this quest leads to compelling discoveries for the upcoming book and the occasional mysterious rabbit hole. Unfortunately, many of these findings will not make it into the final text.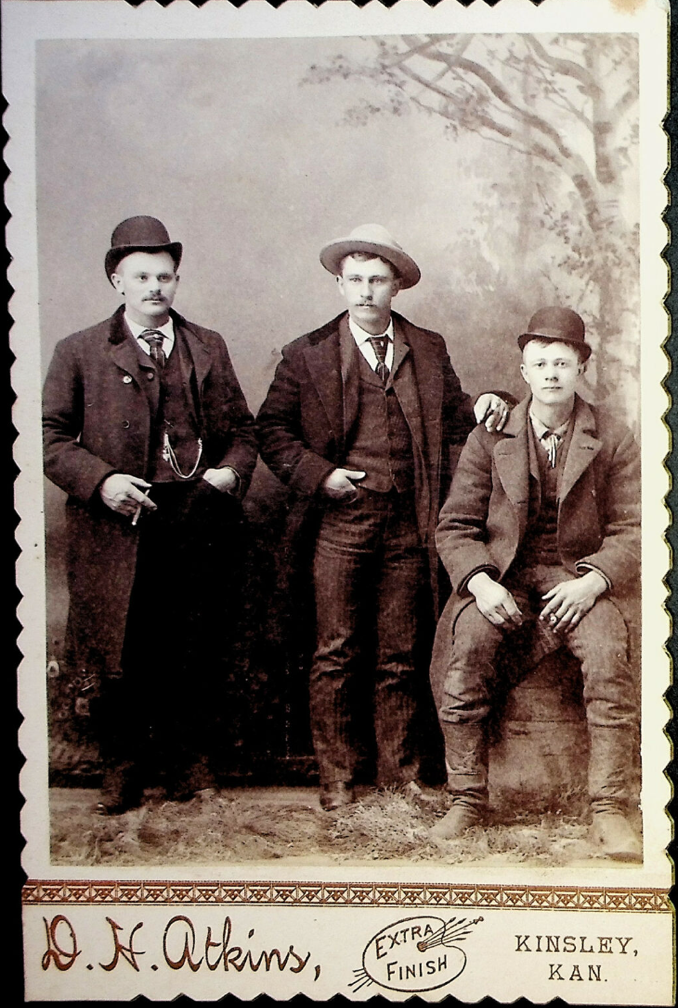 Long-Lost Historic Bread Crumbs
I had one advantage: the photo was taken at the studio of D. H. Atkins. This proprietor only operated in town from November 1890 to March, providing a short window for when the image could have been taken.
Additionally, this photograph mystery offered another advantage; the three men did not appear to be related. I surmised their relationship had to be occupational in nature. Also, the style of their attire suggested they were engaged in some formal profession of some kind but were not incredibly wealthy.
As I scoured a historic local history text, I noticed a resemblance between the man at the center of the photo and Daniel Alpheus Baugher. He was Kinsley school's longtime superintendent at the turn of the twentieth century (who had incidentally supported Charles Edwards with theatrical productions in town).
Operating under the hypothesis that the man in the center was Baugher, I checked his whereabouts during late 1890 using newspapers.com. Unfortunately, I uncovered that Baugher was teaching school and living in Hutchinson, seemingly disproving my theory. Now, back to square one.
But when I dug deeper, I discovered that the Southwest Kansas Teachers Association held a large regional conference in Kinsley in November 1890. Also, one D. H. Atkins had just opened his photography studio.
Since Baugher was a teacher at the time, he potentially attended the convention. So, I returned to my original hypothesis. I then gathered a list of Baugher's male colleagues in the Hutchinson school system to see if I could confirm another man in the photo. I determined a finite group of five potential candidates. I did thorough searches for each one.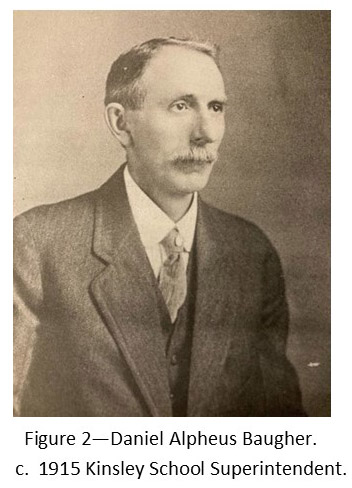 Then, I found what I was looking for –- mystery solved!
In a Wichita newspaper, I discovered an unmistakable photo of the man on the left. He was also a teacher on the 1890 Hutchinson teacher's roster, and his name was Oliver Winslow Jones. As Sedgewick county treasurer, he had just been arrested for embezzling taxpayers' money.
With Baugher and Jones clearly confirmed, I then tried to locate the man seated on the right. I had three male Hutchinson teachers remaining to research. I moved on to a man named Ellsworth Hull. After an hours-long exhaustive search, no luck, no photo chronicled in the papers. Maybe the third man's identity would never be confirmed.
Still, my mission needed to be completed, so I pressed on. As I searched for the next man on the teacher's list, Hartwell Sherman Rogers, I determined that he moved to Larned after his tenure in Hutchinson. In Larned's papers, I noted that Rogers became a successful Pawnee County Attorney and aspiring politician.
And, suddenly, there it was: a photo of Rogers. Again, it was apparent. The man seated in the 1890 cabinet photo was indeed Hartwell Sherman Rogers.
The previously unidentified men in this long-lost 1890 photo from Kinsley were Hutchinson teachers Oliver Winslow Jones, Daniel Alpheus Baugher, and Hartwell Sherman Rogers. They had come to Kinsley for a teacher's convention and memorialized their experience with a photograph at a brand-new studio. Who could blame them; the owner often had bargains such as a dozen photos affixed to cardboard for $1.50–what a steal!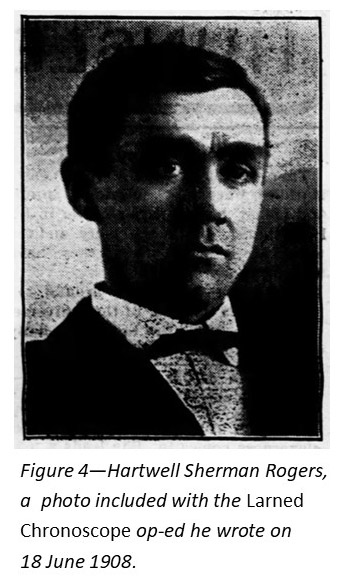 While following clues and historic breadcrumbs absorbed me, the real significance of this photograph remains the fascinating lives of these three men.
(Continued next week…)