The library has a book, "Architectural Styles of Kinsley, Kansas", which was researched by architect Ed Carlson for a bus tour conducted in 2010 and again 2017. Carlson grew up in Kinsley, the son of Edwards County Sheriff Leonard Carlson. During your stay-home time, I recommend going on a self-guided tour around Kinsley either in your car or easy chair. The illustrated tour guide is available on the library website and in hard copy.
Many architectural and historical facts are revealed in this book, and I thought I would highlight a few this week. However, what usually happens, happened again. I started reading about one of the oldest structures in Kinsley and got caught up in the story of an early pioneer who once lived in it.
The Atchison, Topeka and the Santa Fe Railroad reached this area in 1872 and a settlement called Petersburg began to form. In March, 1973 a group of men representing the Massachusetts colony from Boston located here. That summer, they would change the name to "Kinsley" to honor Edward W. Kinsley of Boston.
Ferdinand Charles (F. C.) Blanchard was among these original settlers. He would later come to live in the house that still stands on the corner of Second Street and Colony Avenue. Carlson explained on the bus tour that just the center portion of this house was the original structure built by Newton L. Mills about 1878.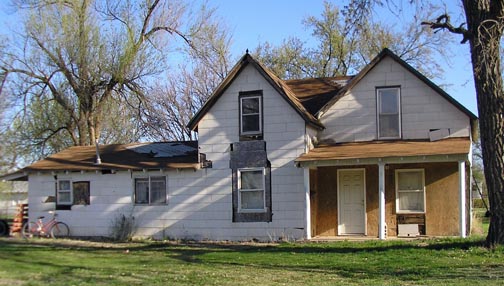 "The original house was one room deep and two rooms wide…. The wing to the west (left side) and the two stories to the east (right side) were added later. On the east side of the original house is another gable. Normally this side would have been the front of the house with a porch on it. These early houses were not tied down, weren't plumbed, and didn't have electricity. They were easily moved. I suspect that when they added the east wing, they rotated the house around (to face south)."
The many trials and tribulations of F. C. Blanchard are outlined in the Edwards County Centennial book (p. 252) and expanded on in early newspaper articles and "A Standard History of Kansas and Kansans".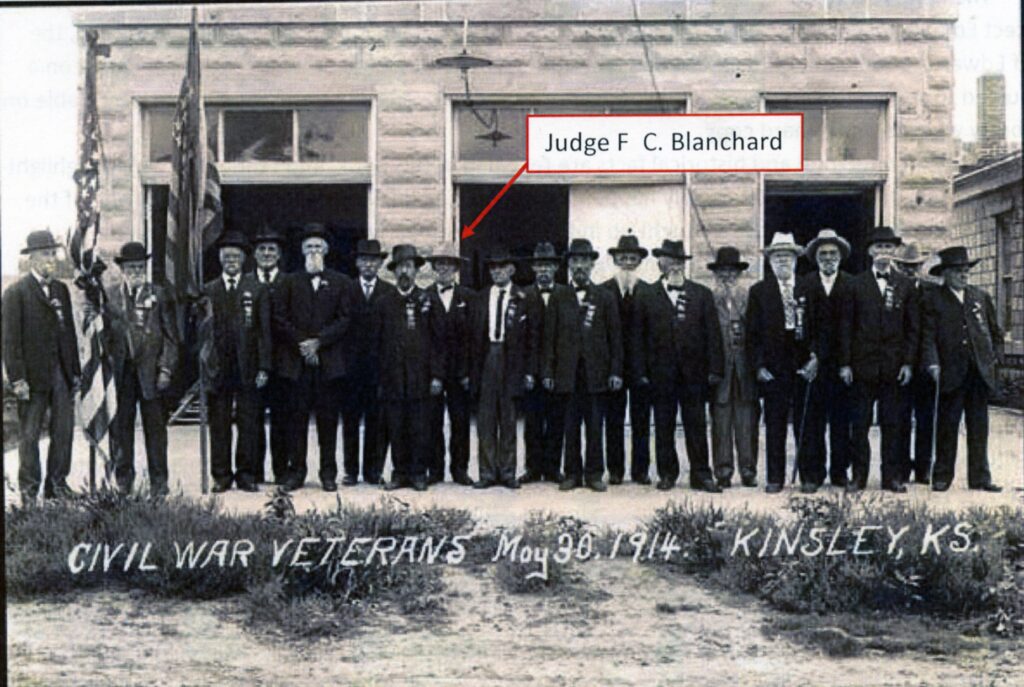 F. C. was a Civil War Veteran of the First Missouri regiment and fought in many battles including Vicksburg. He was wounded 3 times and captured by Confederate troops. When he came to Edwards County he took a soldier's claim. It is said that he was the first to ply a furrow to plant crops in Edwards County. His first crop was corn and watermelons. Worms ate the corn and he had to rely on the watermelon and truck garden crops.
F. C.'s marriage to Miss Katie Martin on October 29, 1974 was one of the first weddings in Kinsley. Miss Martin, known as a talented musician, had arrived in 1873 in the Boston party and lived with the J. A. Walkers. She witnessed herds of buffalo passing through the area and helped bring the meat in from the prairie where the animals were killed.
Mrs. Walker told the story of their courtship. Our home "had only one room, so the young couple had what was known as a traveling courtship, walking about the prairies. Mr. Blanchard gave offerings of bouquets of wild onion flowers, and … Mrs. Blanchard was married with wild onions in her hair. This may seem strange, as we have so many beautiful wild flowers now, but in those days, there was not even grass on the sandhills, and lack of rainfall sometimes caused all vegetation to dry up by May 15th. Wild onions are the only things that flourish later."
Mrs. Blanchard related that when they were married, no butter could be had for baking a wedding cake, so they had a sponge cake. From 1877 to 1896, the couple would have 4 children.
In 1874, F. C. planted 32 acres of corn. "It had reached the stage of roasting ears and one day Blanchard gathered some for dinner. In the afternoon the grasshoppers came in a cloud and by night nothing was left." (Centennial book) The following year the crops were destroyed by hail.
The claim was sold in 1878, and the Blanchards moved to a small house with a dugout stable northwest of Kinsley. Five years later they moved to a timber claim ten miles south of Kinsley where F. C. engaged in the cattle business. A severe winter killed cattle by the thousand, and he was one of many who found themselves unable to continue their business.
The Blanchards then moved to a small place north of Kinsley where in March, 1884 a disastrous prairie fire swept away all that remained of his possessions. "Mr. Blanchard loaded his wife and children, one only three weeks old, into a buggy and ran to a place of safety. There was no time to hitch up a horse, and he was badly burned by getting the fire in his boots. Nothing was saved but the clothing worn."
That was when the family gave up on agriculture and moved to the little house in Kinsley. Blanchard became postmaster. Later he took charge of a mill and elevator where he served until it was destroyed by fire. Then he managed a lumber yard.
Blanchard's official services in Edwards county began early. He was elected one of the first county commissioners and was later elected as probate judge from 1891-1915.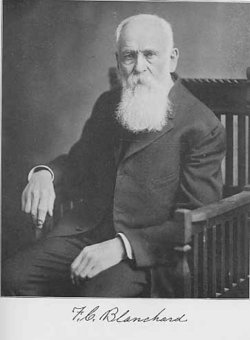 "I do not believe we pioneers of Edwards county endured as many hardships as did some of the other early settlers of Western Kansas," said Judge Blanchard in an interview in the Kinsley Mercury in 1918. "However, times were hard enough and I am frank to say that I would not grant a repetition of our experiences. There were years when we hardly knew where we would get food for bare living purposes, but we pulled through those dark periods and I doubt if there is a man alive who breasted the early day hardships who is sorry he remained."
The hardships that F. C. and Katie endured may help us to put the current pandemic in perspective. Having lived long lives, F. C. died in 1922 and Katie in 1929 and are buried in Hillside Cemetery.