On Monday evening, October 30 at 7 p.m. the Kinsley Library will host "Beyond the Veil:  A History of Spiritualism" presented by Katie Keckeisen.  Members of the community are invited to attend this free program offered through Humanities Kansas's Speakers Bureau which features humanities-based presentations designed to share stories that inspire, spark conversations that inform, and generate insights that strengthen civic engagement.

"I strategically planned this event on the night before Halloween, to fit in with the mood of ghosts and things that go tap in the night," said library director Joan Weaver.  "Little did I know some local research would lead me to a fascinating story."
It seems one of the eternal questions that has plagued humanity centers around what happens to us when we die. Most modern religions try to tackle this question, but none did so with more fervor than modern Spiritualism. What started in a cabin in New York in 1848 with two young girls quickly spread across the globe. Soon, spiritual mediums who claimed they could communicate with the dead could be found in almost every town in the nation. This presentation examines the emergence of this religious phenomena, its connections to both the Civil War and World War I, and how it led to a battle of words between the creator of Sherlock Holmes and the greatest magician of all time.
The early Kinsley newspapers have articles both explaining and decrying the practice of spiritualism. One in particular caught my eye, and led to the discovery of an exciting character.
If you lived in Kinsley in 1883, you very well might have attended an entertainment at the Gem of the Valley Hall on Wednesday evening, August 14. This early community hall was on the second floor of an original wood-frame building at 217 E. Sixth St. (today the location of Midway Antiques).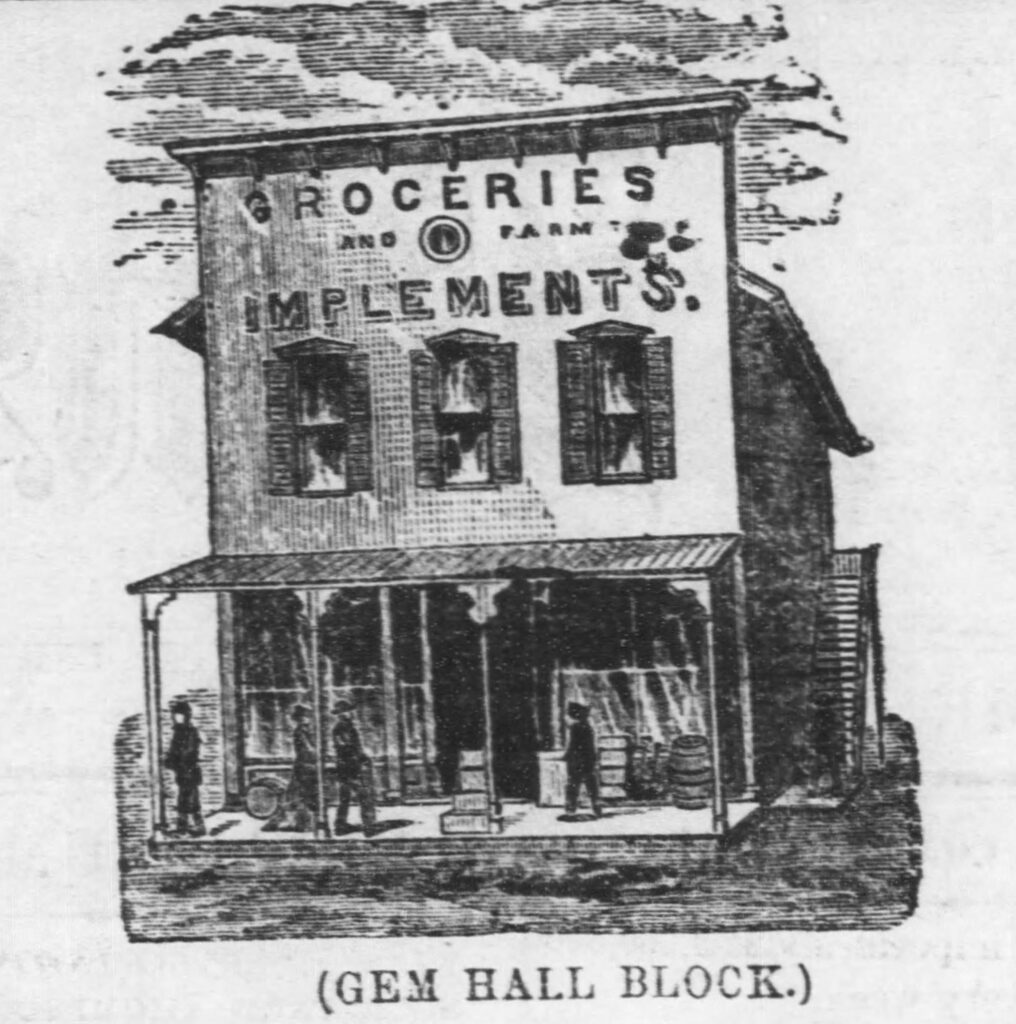 An article in the Edwards County Leader announced that "Prof. Cooke, the distinguished opponent of Spiritualism, …. will perform and explain all the celebrated performances of the Davenport Bros., and other celebrated mediums, among which are the 'Handcuff Test'. "Challenge Rope Test', Clairvoyance, and the whole will conclude with the startling 'Spirit Bride Séance'".
That set me off on a very interesting quest in other towns' newspapers to find out more about this Prof. Cooke. The Hutchinson Herald of July 27, 1878 reported the following after his performance:
"The revelations by Prof. Cooke have opened the eyes of many who were disposed to give credence to the claims of mediums, who have for years been practicing upon the public…. 
"While disclaiming any supernatural aid, he was bound hand, foot and neck in a dozen ways by a committee selected from the audience, and placed in the cabinet, in every instance releasing himself in a few seconds. 
"The committee occupied fifteen minutes tying him and placed him in the cabinet with his coat on, and in one second his coat was thrown out of the cabinet, and the door being opened he was found tied and sealed as before; in three seconds he replace his coat, and in an instant he released himself without displacing a knot or seal."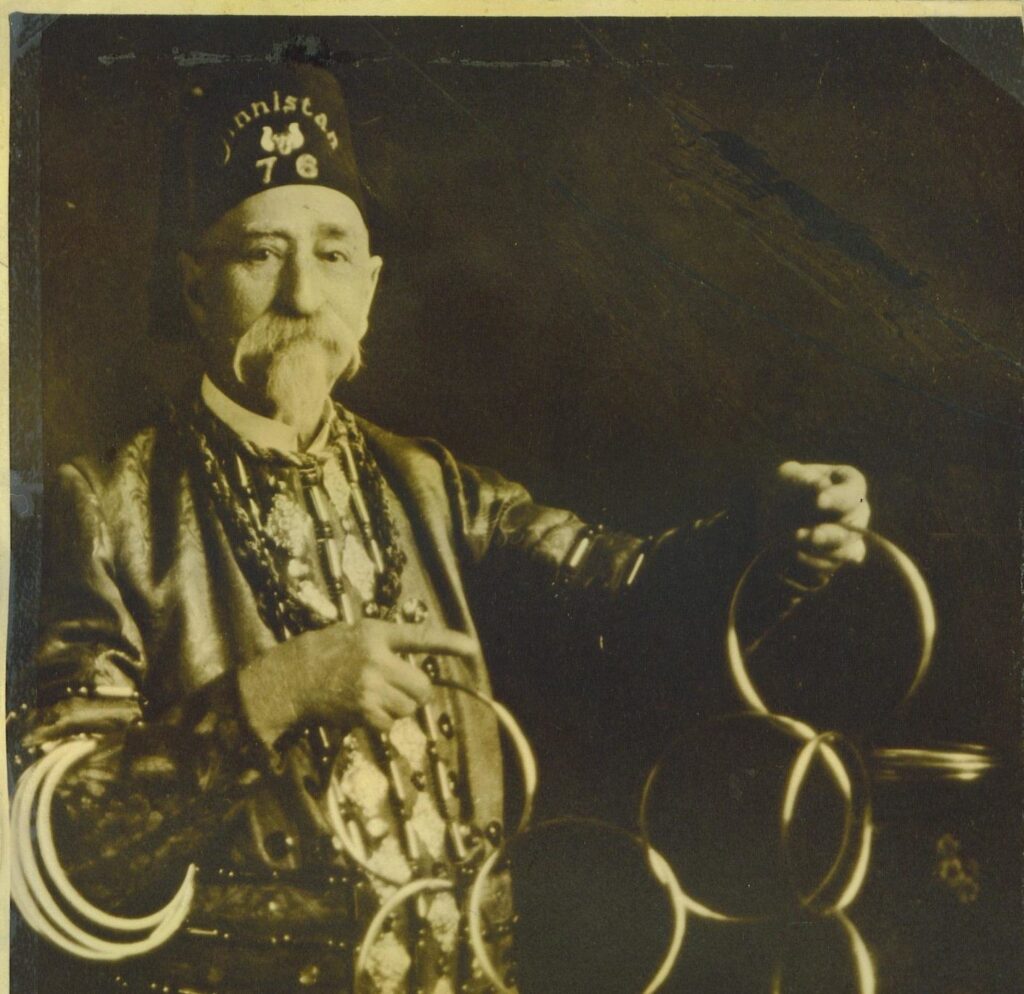 After discovering his full name to be Horatio (Harry) Green Cooke, a Google search took me to the "Friends of the Lincoln Collection" website.  There I found the most remarkable story written by Jason Silverman, of Winthrop University and I recommend that you read the whole article which I will only highlight here.  https://www.friendsofthelincolncollection.org/lincoln-lore/3275/
Harry enlisted in the 28th Iowa Volunteer Infantry in 1862 at the age of 18.  He had always loved magic and was quite an escape artist.  He would often "escape" from camp just to see if he could do it.  Upon his return, he was confined or tied, as punishment, but was always able to quickly escape. 
Harry had other talents that were valuable including expert marksmanship and beautiful penmanship, the latter of use to Union generals in a time before typewriters.
In 1864, Harry was summoned to the Secretary of War's office in Washington, D.C. To his astonishment, President Abraham Lincoln was in the room.  Lincoln also had a love of magic and asked for a demonstration of Harry's skill of escape.  Two generals and one senator tied Harry up with 50' of rope.  In seconds, he had freed himself, and Lincoln awarded him with a $2 bill which he kept throughout his life.
Before leaving the office, Lincoln penned a letter designating Harry as "Chief of Lincoln's Scouts", an intelligence group charged with infiltration of enemy lines. 
The second week of September, Harry and his six other scouts were assigned to General Sheridan in the Shenandoah Valley.  They were separated from the unit on October 19and captured by the Confederates.
Again, I hope you read the whole account as it is quite detailed and exciting. For this article, suffice it to say, that Harry bided his time until one night, when he and the six others were tied to trees, he took advantage of a sleeping guard to free himself, untie his fellow scouts, and make their escape. 
At the end of the war, Harry was assigned as a military clerk In Alexandria, Virginia.  When the Confederates had captured him, they had taken away the letter Lincoln had written making him a Lincoln Scout.  Harry hoped he might get an audience with Lincoln and have the letter replaced.  On April 14, 1865, he went to the White House where he was told that the President had left to attend a play at Ford's Theater.  Harry hurried off to the theater and arrived 20 minutes before he became a witness to Lincoln's assassination. 
Harry would become a popular magician who enjoyed sharing the tricks of the trade in order to debunk spiritualists.  And that is how he came to Kinsley in 1883.