This winter, Cindy Courtier of Altadena, California was digitizing pictures to update the Wilson family history.  Cindy's husband, Brian Wilson Courtier, and Kinsley resident, Sally Wilson Frame, are cousins and grandchildren of Rose Penelope "Nellie" Maxey Wilson and George E. Wilson. 
Mrs. Courtier wondered if the library would like a copy of the updated history which is well-written and interesting to read even if you are not related. She also offered a scanned picture of the Wilson children in costume from the 1912 production of "Midsummer's Night Dream". Of course, we wanted both as that is how our archive grows. I sent the picture on to Dr. William Wolfgang who continues his research of Charles Edwards and community theaters.
            Mrs. Courtier also mentioned that another descendant, Hal Maxey, had a picture of the George T. Maxey family moving to Kinsley in a covered wagon in 1886.  Hal Maxey is the great grandson of George Taylor Maxey and Clara (Burnaugh) Maxey.  She contacted him and he subsequently sent a scan of the picture to me.  What a family treasure to have this rare picture of their ancestors on their arduous journey west.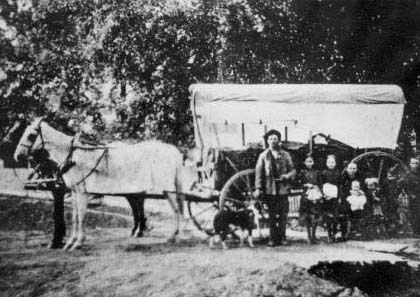 The picture shows George T. with his wife Clara and their six children beside their wagon near Hutchinson.  Twelve-year-old Nellie Maxey is standing beside her father with their dog who also walked from Illinois to Kansas.  They had left on October 1 and arrived in Kinsley on Nov. 7, 1886.
On the way, George T. had traded one of their old horses for the mule in the picture. As they began to trek the last nine miles to their claim, the mule lay down and died one-mile south of Kinsley. They had to go back to Kinsley and buy another mule to reach their new home in Brown Township.
The Maxeys would soon move to a place 2 miles west of Kinsley and have three more sons, Harvey (Hal's grandfather) Oscar and Jessie. George T. would die at age 57 in April, 1909. Clara would marry Jacob Rapp in Oct. 1910. All are buried in Hillside Cemetery.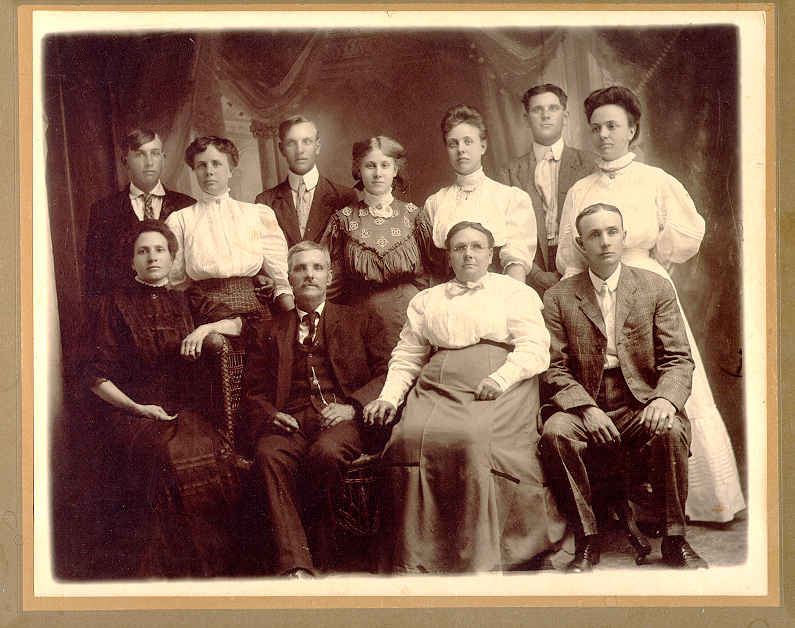 On March 26, 1958, when Nellie was 83, the Congregational Ladies Society narrated a skit, "This is Your Life… Nellie Wilson: A Portrayal of the Kansas Life of Nellie Maxey Wilson," written by Helen Buxton and Nell Lewis Woods. The script was printed in the Kinsley Mercury on April 24, 1958 and is available to read at the library.  Wouldn't it be fun if the Frame women recreated the skit at an event at the library this coming summer.
After Hal Maxey sent the wagon picture, he generously wrote: "I did look thru your internet site, and I found it easy to use and obviously shows the work already put into it. It was easy for me to find my family members when I took a quick look and will definitely return when I get back to it."
On his recommendation, I invite you to also discover all the genealogy and local history resources on the Kinsley Library website.
And remember, you have stories that happened yesterday or before that we would love to add to our archive.