Last week I began writing about the buildings H.B Oliphant and his sons built in 1923 in the 600 block of Colony Avenue for their production of Blue Ribbon Butter, Kinsley Ice Cream and bottling soda. Notice in the picture that the street has not been paved with bricks at this time, but there is a paved sidewalk in front of the new businesses.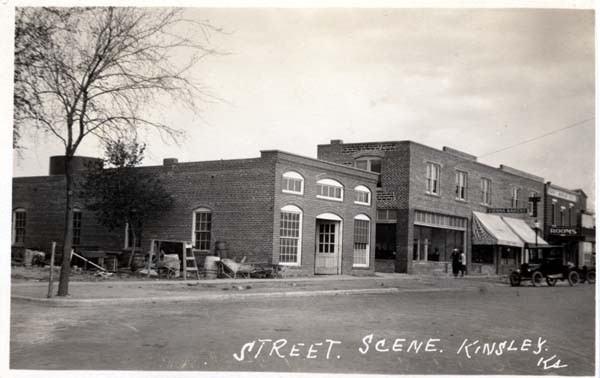 On the north side of the Oliphants' building at 624 Colony Ave. can be seen a canvas awning advertising the Vienna Bakery. Mahlon B Gault had had his bakery in this location, but moved out temporarily during the construction of the new building which was built to meet specific bakery requirements. The new facility had its Grand Opening on February 16-17, 1923. Mr. Gault said the modern, new facility caused the bakery to double its shipping business as well as increase the local retail business.
M. B. Gault was often referred to as "Bake" in the paper. This might have been a leftover nickname from his service as a sergeant in WWI. He had spent twenty-five months in France teaching others how to bake. He came to Kinsley when he was hired by J. A. Williamson to work in his bakery in October, 1919.
In September, 1921, Gault married Mrs. Lora Gilley Buckles. Lora had been married to Jay Buckles who worked at the Graphic. Jay died in 1918 of Bright's disease, a disease of the kidneys. She was left with two small children. She married Mahlon Gault in and worked with her husband in the new bakery.
According to the July 5, 1923 edition of the Mercury, the new sales room of the bakery was 17' X 20'. The 10' X 20'wrapping room with its new electric wrapper was a "beehive of industry" which was especially busy when the out of town orders were being taken care of. The new home boasted a new double decker hard coal bakery oven, which could bake 260 loaves at a time. "This oven is in continuous heat 24 hours per day, hence the output is limited only to the physical endurance of the Vienna Bakery force." Shortly after the bakery opened, an order for 2000 buns went out to a city 40 miles away.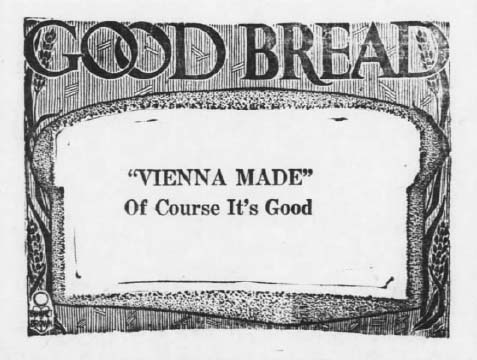 A full-page ad in the Feb. 15, 1923 edition of the Mercury, boasted the new oven as "being the largest west of the river towns" and its continuous heat made it "ready to go at any time" which enabled the Gaults to take special orders.
The advertised promotion for the grand opening announced that coupons were being placed in each loaf of Vienna Bread. When a customer obtained a sufficient number of coupons they were entitled to a free 4' X 6' American flag.
On Saturdays the Vienna Bakery was well known for its specials. The advertised grand opening special for that Saturday was for "Cream Puffs with Genuine Whipping Cream, 30₵ per dozen." I'm sure that whipping cream came from the Oliphant Creamery next door.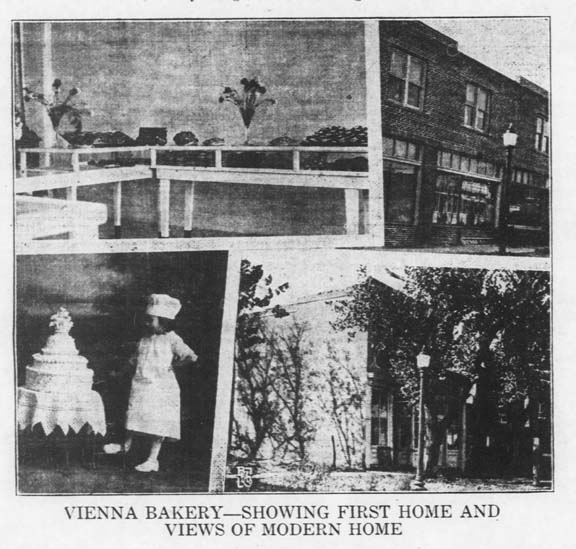 The following is part of the description of the Grand Opening. "When the doors were thrown open Friday morning, the Vienna Bakery always neat and attractive, resembled more of a fairyland than the ordinary bakery one is apt to see in most towns. Beautiful red and white carnations in cut glass vases adorned the attractive new show cases. Inside these cases were on display the greatest variety of bread, pies, cakes, in fact, pastries of all kinds ever shown in Kinsley before. These were finished with an artistic touch only as an artist of Bake Gault's ability could do….on display were angel food, Waldorf, devil's food, nut loaf, white layer, English walnut, coffee and diamond cakes, jelly tarts, lemon, cocoanut, apple, mince and berry pies, doughnuts, jelly roll, lady fingers, cream puffs, Bismarks, fruit bar, oatmeal sugar, and cocoanut cookies, cocoanut and almond macaroons, Parker House, French cinnamon, finger, Vienna cinnamon stick and coffee rolls, jelly and plain buns, crimp cream, rye, whole wheat, Pullman and plain bread."
All was sold out by Saturday night, and if that does not make your mouth water and create an ardent desire for a bakery in Kinsley these 100 years later, nothing will.