Last week, the Edwards County Historical Society received a box of photos and documents from the Ely family. I was interested because I recognized the name of Ben Ely, Jr. as a talented illustrator of early Kinsley High School annuals. After being inventoried, the box was brought to the library, and I spent an afternoon scanning photos and reading papers. That is how I found myself off on the trail of Ben Ely, Sr. who brought his family to Kirkfield in Edwards County in 1901.
That led to the question: Where was Kirkfield? I was surprised to find it located just south of where I live, but it took a trip to the courthouse to clarify exactly where. Kirkfield was on what is now called the parallel, at the corner of County Road 36 and 150 Avenue (going south). Back then the freight trail to Sun City ran close by. Today it is a cultivate field, but on February 24, 1881, Robert G. Kirk established the Kirkfield post office there at his home and it was named for him.
Robert Kirk was one of the early Edwards County settlers. He was born in Massachusetts in 1836. On November 20, 1861, at age 24, he enlisted in Company D, 11th Regiment of the U. S. Infantry This Regiment was at the Second Battle of Bull Run, at Chancellorsville and at Gettysburg. He suffered injuries but remained in service until he was discharged at the end of the war on May 25, 1865. The next week, he married Mary Maher of Boston. In 1877, they would immigrate to Edwards County.
The area of Kirkfield (it never was a real town) had its share of problems. There was a large prairie fire on September 17, 1882 which started south of the river at Offerle and ran "over all the country south of the sand hills (Brown, Wayne and Franklin Townships) causing great destruction of property and in a number of cases endangering life. In addition to losing all their range…. the citizens lost their hay, straw, fodder and millett, and barely saved their houses…. Such a loss anywhere but on the frontier where the people have learned to bear the frequent visitations of disasters, would entirely discourage any community, but with the courage begotten by the long continued fight with drought, grasshoppers and hail storms, these hardy frontiersmen will go to work with renewed energy to repair the heavy losses occasioned by this new calamity." (Kinsley Graphic, Sept. 21, 1882)
Robert Kirk offered a $25 reward from his private funds for the arrest and conviction of the party or parties who set the fire. I don't think the culprit was every discovered.
On June 19, 1890, the Kinsley Mercury reported another disaster when Kirkfield was literally wiped from the face of the earth by a cyclone. "The storm Monday evening, which went tearing across the country south of the river did considerable damage to property. At and in the vicinity of Kirkfield, it raged with the greatest fury and the good people there with one accord betook themselves to dug-outs and other cyclonic means of defense, consequently we hear of no severe personal injury or loss of life. It is reported that Robt. Trotter, the Kirkfield postmaster, was bruised up slightly and that his residence and post office were blown down. The house, farm and other out-buildings belonging to John Zimmet were completely demolished. A number of his hogs and cattle were killed and one or two horses badly injured." Kirkfield at this time, only contained a vacant barn which was destroyed.
Luckily for Robert Kirk, he had left Kirkfield the year before in 1889. He had found that the rugged pioneer life was not possible with his war-caused disabilities. He moved to Kinsley and ran for and won the position of Edwards County coroner in 1893. The Graphic supported his candidacy with these words, "Mr. Kirk will doubtless be elected, as he should be, and hold his first inquest over the remains of the political party that dares to oppose him."
I could find no record of Robert and Mary ever having children. Mary, died in 1895, and Robert moved to Larned where he delivered ice. At age 65, he married a five-time widow, Lucillah T. Aliff, on September 19, 1901.
Robert Kirk died on March 5, 1910. His body was brought back to Kinsley and buried under the direction of the G.A.R. next to his first wife in Hillside Cemetery. (In 1911, Lucillah, at the age of 75, would marry at least one more time to W. A. Woodruff of Hoisington. It is difficult to research women who have so many last names!)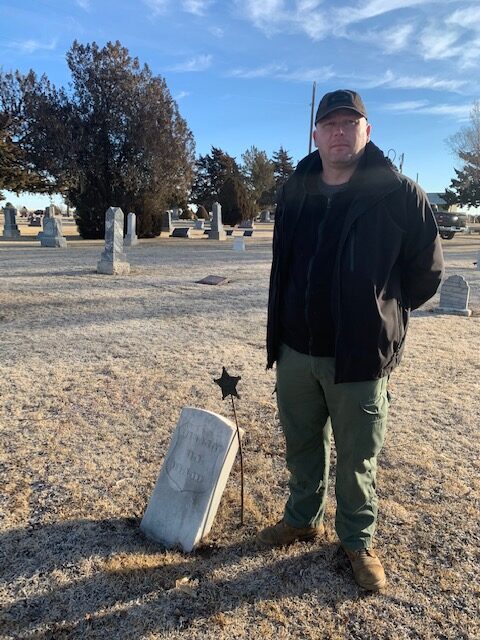 In 1901, the year that Robert Kirk left Edwards County, Benjamin Ely, Sr. brought his family and settled in Kirkfield. As usual this week's trail with its ghost town of Kirkfield became so interesting, I didn't even get to the Ely family and their family photos. I'll pick them up next week.