In 1918 there was no TV or radio to listen, so when the Chautauqua came to town in was a big social event.  I could find no mention of how many people attended the 2018 Chautauqua, which was billed as a "Brilliant and Patriotic Program."
Music was one of the main attractions at the Chautauqua.  Besides the Major Marr Entertainers mentioned in Post #68, other musical presentations were enjoyed.  The Ladies Regimental Orchestra consisted of eight women who usually kicked off the Chautauqua with lively songs and readings.  The eight members played the piano, violin, drums, cornet, flute, clarinet, and sang.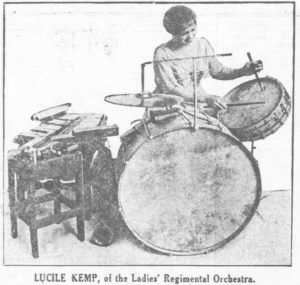 One can imagine the tent filling with the sound of the 25-piece Cimera Band playing patriotic marches, classical and popular music. The band leader, Jerroslav (Jerry) Cimera, was a well-known trombonist who also composed music, especially for the trombone.  The band provided the music for Madame Helene Cafarelli, an Italian prima donna soprano, and Thurlow W. Lieurance.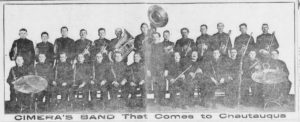 Mr. Lieurance was an American composer who grew up in SE Kansas and was particularly well-known for his songs inspired by Native American culture.  His wife, Edna Woolley, traveled with him and performed his songs.  Pehaps his most popular,  "By the Waters of Minnetonka" has been recorded by many artists and may still be familiar to you.  Here is a link to a 1920 version, which probably sounds much like it did in Kinsley 100 years ago.  The modern ear might recognize and enjoy more Nelson Eddy's rendition.  You may even remember the song on a Lucile Ball and Desi Arnaz comedy routine.