Recently Ed Carlson who grew up in Kinsley purchased some Kinsley Independent Order of Odd Fellows (I.O.O.F.) memorabilia on eBay. My father belonged to this fraternal organization which is similar to the Masonic Lodge with degrees and secret rituals. You may have seen their symbol, a 3-link chain, on gravestones at the cemetery.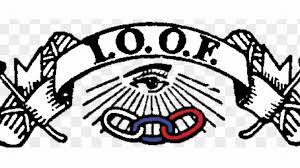 I.O.O.F goes back to the 13 century in Europe when men of different labor guilds organized for the purpose of aiding each other. They were called "Odd Fellows" because unlike the Masons, they came from different trade guilds.
I.O.O.F were to "visit the sick, relieve the distressed, bury the dead, and educate the orphan." The 3-link chain reflects the I.O.O.F motto of "Friendship, Love and Truth". It was the first fraternity in the US to include both men and women when in 1851 it included the Daughters of Rebekah for the ladies' companion organization.
The first settlers in Edwards County already belonged to the I.O.O.F. when they arrived here. On June 14, 1877, men met in Kinsley and within a year they were organized into five lodges in the county. It was the most popular fraternal organization in Kansas and early on established orphanages.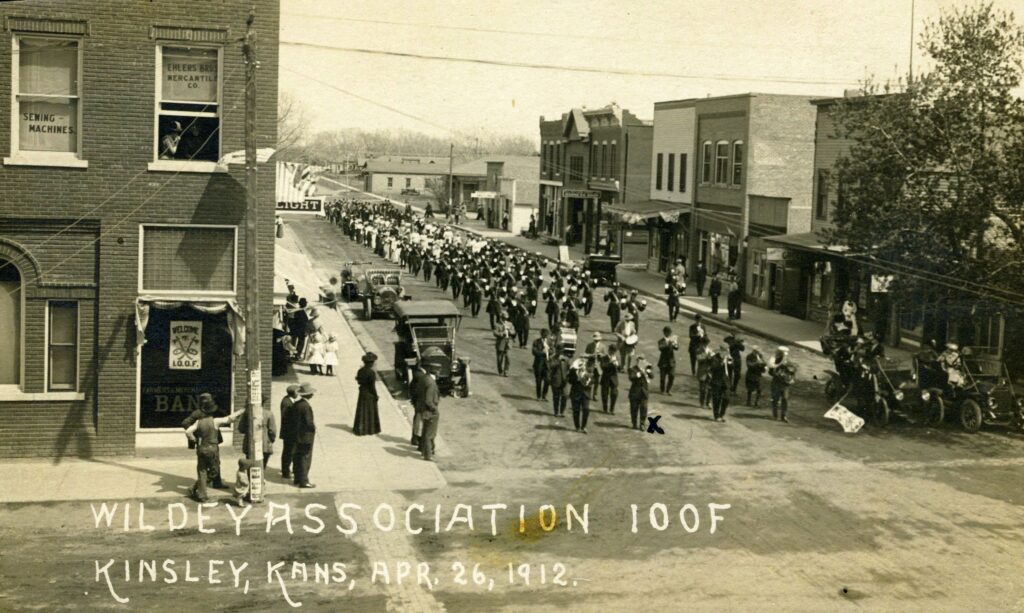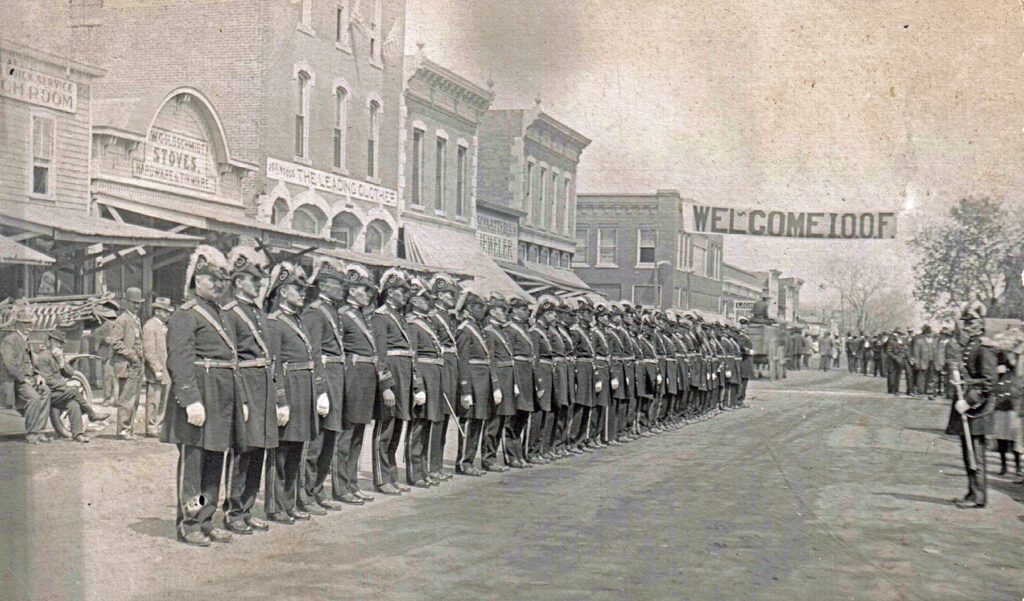 Among the collection of pins, medallions, and ribbons that Carlson purchased were postcard images of downtown Kinsley captured on April 26, 1912 during a parade organized by West Lodge No. 150 and Kinsley Rebekah Lodge No. 411. That day marked the 93rd anniversary of the establishment of I.O.O.F in the United States by Thomas Wildey in Baltimore in 1819. Eight hundred Odd Fellows and Rebekahs from all over southwest Kansas attended the day-long meeting.
Carlson surmises that the memorabilia belonged to Frank Milloway (1871-1941) whose I.O.O.F portrait was with the collection. Frank Milloway had worked for the railroad. He married Anna Doerr, the daughter of Jacob Doerr of Larned.
In 1906 he moved his family to Kinsley to a home just east of the Catholic Church. He managed the Moses Bros. elevator and then the dry goods department of the People's Store (213 E. Sixth St., antique store lot). After it burned in 1911, he went across the street to manage the dry goods in Timken Store (212 E. Sixth St., Extension Office). In 1913 the Milloways moved to Dodge City where Frank managed the dry goods department of Locke Mercantile Co. He's buried in the Doerr family plot in Larned.
I.O.O.F remained an active organization here and in Lewis for many years. I am not sure when they disbanded. If you know that or have any other information, please let me know so it can add be added to our files.