I've been working my way through a box of photos given to the Edwards County Museum by the Ely family.  As you recall, my research led me to Robert Kirk who in 1881 started the Kirkfield Post Office (located at County Road 36 and 150 Ave).
Kirkfield is where Ben Ely, Sr. settled with his wife, children, and mother-in-law in 1901. The children attended Trotter School and were awarded for perfect attendance in 1907.
In 1909, Ben, Sr. sold his farm and moved his family into Kinsley (814 Colony Ave.). At that time, Roy was 18 and James was 16. They would soon marry and have their own households.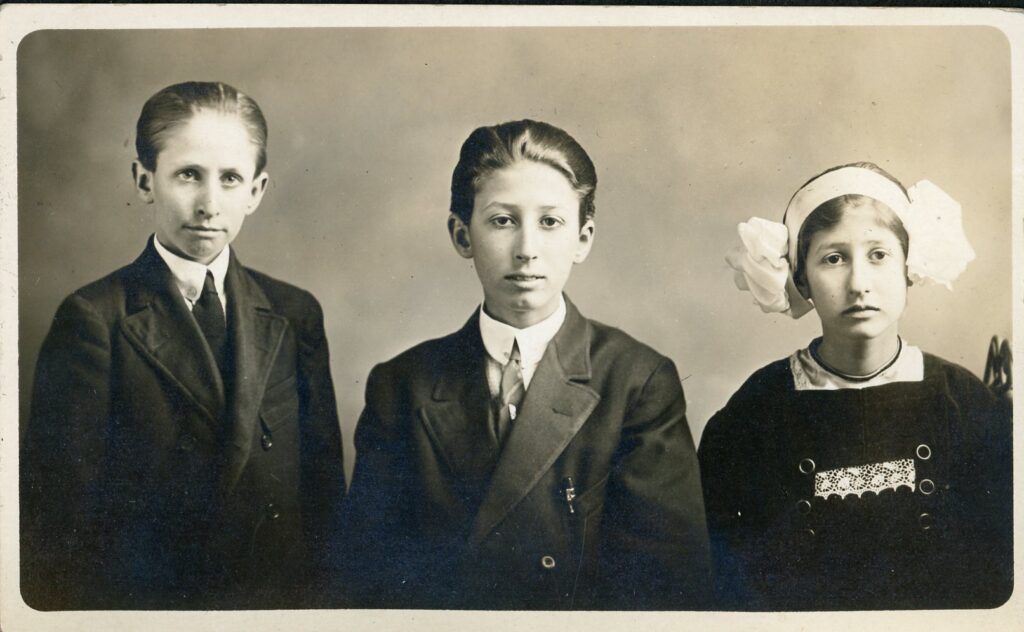 Ben Jr. (age 11), (Mary) Ruth (age 9)), and Manning (age 7) would begin attending school in Kinsley.  Tragedy befell the family in June, 1914 when Manning, who had always been frail, died. Ruth would graduate form KSH in 1919 and become a teacher until she married James Shrauner and settle in Cimarron.
Ben, Jr. was active in high school.  Years ago, I became aware of him from his illustrations in the 1914 thru 1916 KHS annuals, the "Harbinger". He illustrated many pages with ink drawings in the popular art nouveau style.  I invite you to visit the library or go online to see these wonderful drawings:  https://media.swkls.org/kinsley/hs_yearbooks/
The yearbooks also reveal that besides being on the annual staff, Ben, Jr. was a member of the Adelphian Literary Society. "Safety First Club," Glee Club and Chorus, played tennis and acted in plays. He was Vice President of his graduating class of 1916. As a junior, he was "Known by his neckties". As a senior, he earned the following limerick in the annual.
"There is a young man we call Ben
Who always makes use of his pen.
If you'll take time to look,
At the cartoons in this book.
You'll say he is great among men."
That summer Charles Edwards, produced Shakespeare's "Twelfth Night", and Ben, Jr. worked on the scenery. He would continue to work with Edwards during the summers after graduation, but that story is for next week.
In January, 1917, Ben, Jr. left to attend the Art Students League in New York City. This is where Georgia O'Keeffe and Thomas Hart Benson had studied ten years earlier.
The United States entered World War I that April, and in September, Ben went to Washington, D.C. to become Congressman Jouett Shouse' secretary. He also attended the Corcoran School of Art in D.C. and was in at least one play there. He would continue to come back to Kinsley during the summers to act and design scenery for plays for Edwards.
In 1927 Ben began working for the Newspaper Enterprise Association at Cleveland. His illustrations appeared in many papers including the Hutchinson News. Ben wrote, "My first story was for the weekly issue, a Wild West Thriller, called "The Aztec Mystery" –full of big guns, heroic cowboys and villainous Mexicans. I have been doing illustrations for the daily issues."
By 1935, Ben Jr. was living and working as an illustrator in New York City with his wife, Elizabeth (Betty) L. Martin. She was the daughter of a dentist and had been raised in Lander, Wyoming. I could find no information about how they met or their wedding. Betty was ten years younger than Ben, college educated, and worked as a food technician.
In 1936-7, Ben was illustrating a regular children's column in "The Country Home Magazine" called "Agri and the Magic Corn Silk".
The Elys were still living in NY in 1940. I was not able to discover when they left. But they were in Wheatbbridge, Colorado in 1954 and in Lander and Denver in the 1970s and 1980s. He was exhibitng watercolors and portraits and judging art competitions.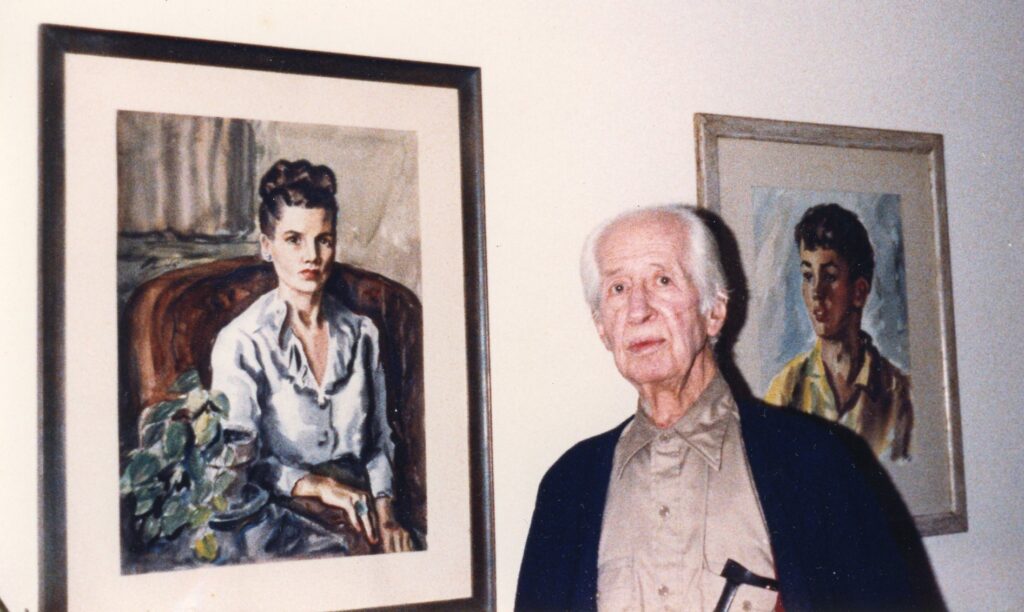 While researching, I noticed that Jerry Wilson (Sally Frame's father) was also in Edwards' plays.  When I called her, she recalled Ben and Betty coming to Kinsley and visiting her parents.  Ben gave her a watercolor which did not appeal to her and she has never framed it.
Ben died on April 7, 1988 in Seattle, just two months after Betty died. They are buried in Lander, Wyoming with their daughter, Martha E. Ely (1950-1994).
Next week I'll share how the Ely photo box led me to connect Kinsley to one star on the Hollywood Walk of Fame.