Just ten years after Coach James Naismith brought basketball to the University of Kansas, Kinsley High School formed a girls' basketball team to play their first official game against Spearville High School on November 14, 1908. It cost ten cents admission to watch the game on the outdoor court.
Kinsley lost to the more experienced Spearville team, 19-12. In contrast to the cold weather, however, the game was described as very friendly. The Spearville's principal was not only coaching his girls, but also "umpired" the game. (Graphic, Nov. 12, 1908)
At this time, women were expected to conduct themselves as ladies, and competition was not considered ladylike. It was also thought that women had frail bodies and weak demeanors which were not up to the boys' rough style of basketball. Therefore, very different rules were established for the girls.
Five to ten women made up a team. The court was divided into 3 equal zones with each player being assigned to one zone as a shooter, a midcourt passer, or a defensive player. Snatching or batting the ball was prohibited. If a player held the ball for more than 3 seconds, it was a foul. Only three dribbles were allowed before the ball had to be shot or passed.
Interestingly, six months earlier, before these rules were adopted, Lewis and Kinsley played an informal game. "The Lewis girls were accustomed to play by boys' rules, and the Kinsley girls by girls' rules. Consequently, the teams didn't hitch very well. They compromised by playing half the game by boys' rules and half by girls' rules." (Mercury, May 29, 1908) Kinsley did win by a score of 22 to 8.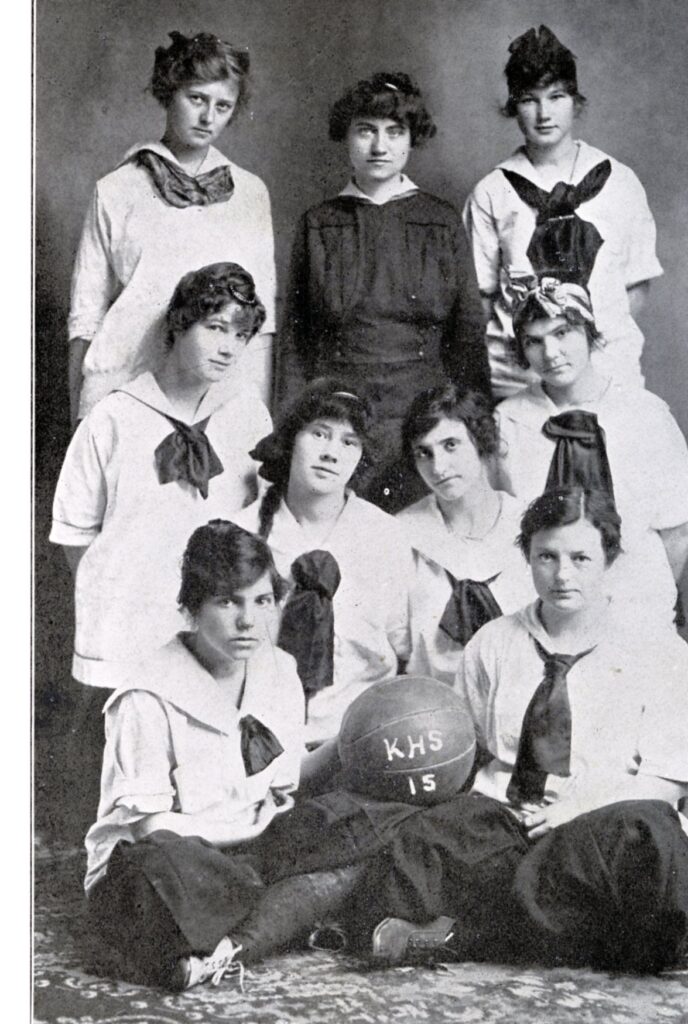 The Kinsley girls continued to have a team each year until their very best year in 1922. They overwhelmingly won nine of their ten games playing against Rozel, Trousdale, Garfield, Stafford, and Spearville. According to the 1922 KHS Annual, the one loss was a forfeit because of "not being able to finish it."
The yearbook attributed their success for three reasons: they were an experienced team; Miss Mattingly was a very good coach; and "They had finer suits than those of any team they played against. They did not want to disgrace their suits and they always played to win." The Wichita Eagle even published a picture of the team in those suits that March.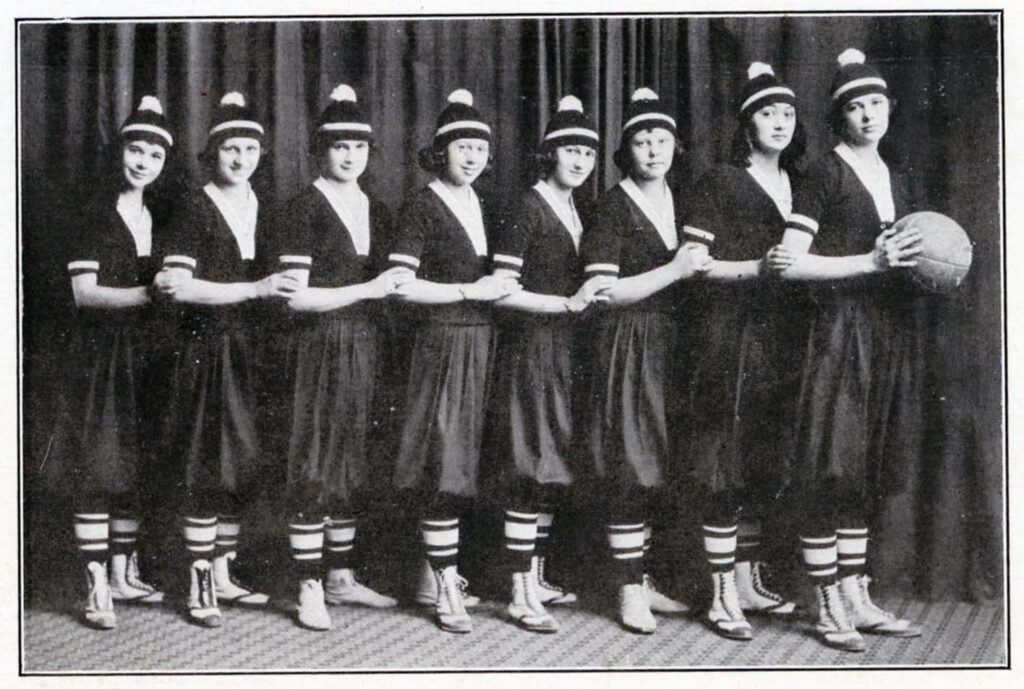 With such success, you would think the Kinsley girls would go on to greater glory. However, that opportunity was taken out of their control. On January 21, 1922, the Topeka Daily Capital wrote that the Kansas High School Athletics Association had voted to eliminate girls' basketball from all district and state tournaments. The elimination of girls' basketball was at the request of the Association of the Deans of Women in high schools and colleges, but the reason for that request was not offered. (Kansas Historical Society's online Kansapedia)
The ensuing years found girls sports relegated to cheerleading and P.E. class. Although the rules had changed some from the early days, the game that I played in my gym class in the 1960s was still not the same game my brothers played in high school and college. You can imagine my frustration after "scrimmaging" with them at the backyard hoop and now being assigned as either a guard or a forward who was not allowed to cross the center line. I also could only dribble twice. It was a slow, boring game only played in P.E. and intramurally.
Then in the 1970s, a lady lawyer, Ruth Bader Ginsburg, began the fight for civil rights and gender equality in the courts. She successfully argued cases that insured 14th Amendment protections to women. Before these wins, a woman could not have a credit card or credit history in her own name. She couldn't lease an apartment or buy property in her name. She didn't even have control over her own medical treatment. And girls did not have the opportunity to play sports (or engage in other previously male activities) in school and college.
Justice Ginsburg's successful fight for equality influenced the U.S. Department of Education's Office for Civil Rights to pass Title IX in 1972.  Title IX protects people from discrimination based on sex in education programs or activities that receive Federal financial assistance, something that nearly all schools participate in.
Title IX is evidenced in the KHS 1973 yearbook. Where there previously had been no girls' athletics section, now there are pictures of the girls' basketball, volleyball, and track teams. Women's strength and athletic abilities were also recognized with new rules: a basketball game consisting of five-player on a full-court, free to dribble, and with a 30 second clock.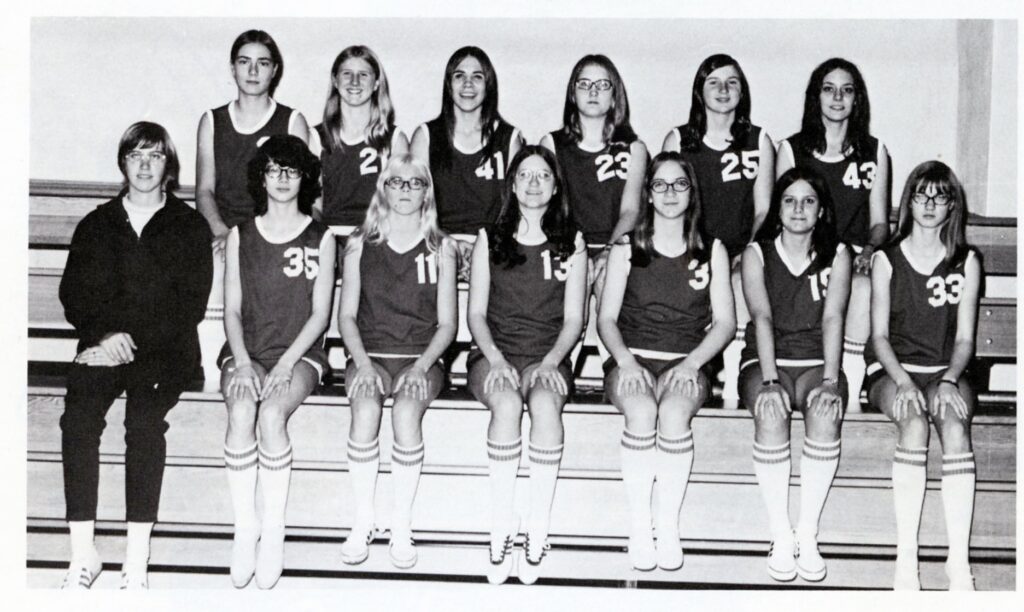 Ruth Bader Ginsburg knew that men and women could, and should, play by the same rules. Her whole career, she fought for equal justice under the law in work, education, and society. Just as we recognize the debt we owe to the early suffragists during this 100-year anniversary of the passage of the 19th Amendment, we also recognize the debt we owe to Ruth Bater Ginsburg as a trailblazer who paved the way for women's rights and gender equality under the 14th Amendment.