We weren't sure it would happen, but the 2020 football season has begun and it is giving us some diversion from Covid-19. It made me curious about Kinsley High School football history.
Coyote football began with the 1912 season. "The Kinsley boys went to Dodge City Friday for their first game of football, and very naturally suffered defeat at the hands of their more experienced adversaries." (Kinsley Graphic, Oct. 10, 1912). Despite losing, 26-0, they looked good in their new uniforms.
The first football game to ever be played in Kinsley was against St. John on October 18, 1912. It brought a big crowd which supported the team with "…the best songs and yells. The score was 7 to 0 in favor of St. John, but from the size of the St. John boys when they first appeared on the field, it looked like the score would probably be 70-0 in favor of St. John. (Graphic, Oct. 24, 1912) Despite losing, 26-0, they looked good in their new uniforms.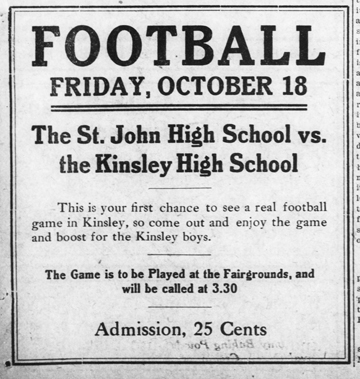 Kinsley got their first victory on Saturday, Oct. 26 against Great Bend, winning 7-6, despite having four times the penalties. "The only ruling especially criticized (by Great Bend), however, was that made by the official in disqualifying Rucker of Great Bend. This occurred in the fourth down. Rucker is a colored player and Kinsley had objected before the game to his playing on account of parental objections at home. In the fourth down, while running interference for Janes he deliberately, or at least so it seemed, planted his elbow three time in the neck of Mathews of Kinsley. For this he was disqualified, and Great Bend was penalized half the distance to its own goal line. Bitter complaint was made of this ruling."
I think it is easy to imagine how Mr. Rucker felt when some Kinsley players did not want to play against a Black man. There may have been other provocations, but one way or the other, he took it out on Mr. Mathews.
By the fall of 1914, the Coyotes had become diverse with Waymond Walker playing on the team. Perhaps that was not surprising, as I stumbled on an interesting fact in the Class of 1915 history. In kindergarten, little Waymond and 4 other Black children had asked for an education and they joined the class of 1915. I believe Waymond would be related to Kenny Gaines on his mother's side.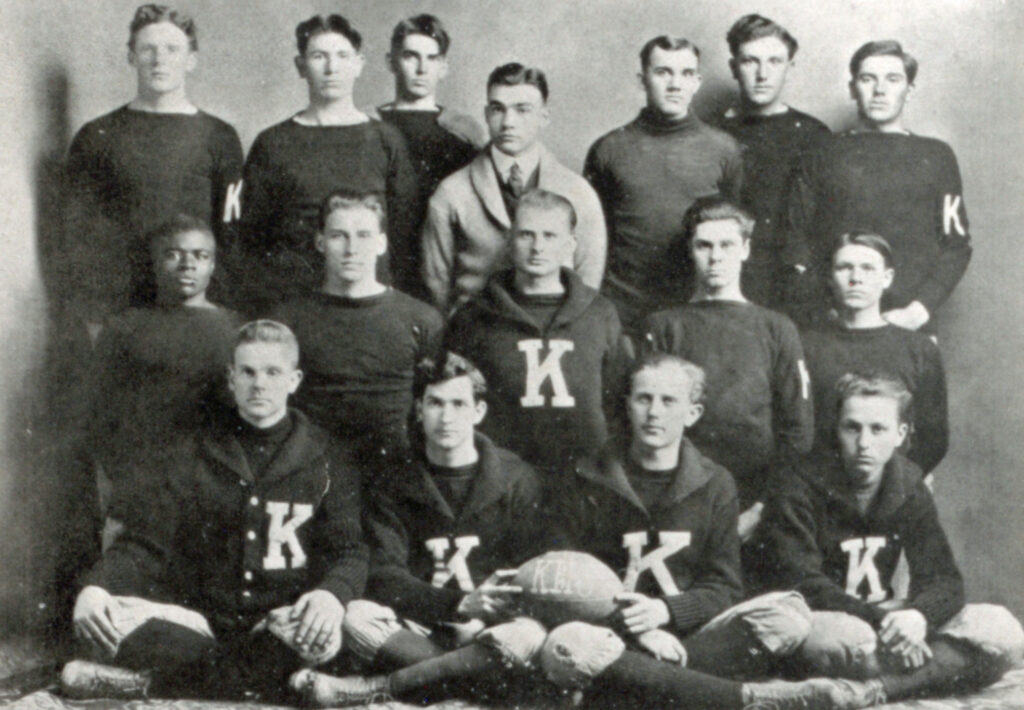 In those early years, it appears that teams usually played each other twice, once at home and once away. The opponents varied over the years and included St. John, Great Bend, Greensburg, Dodge City, Lewis, Spearville, Macksville, Sterling, Haviland, Larned, Jetmore and others. The last game of the season was usually played on Thanksgiving Day.
The newly formed Coyotes were not very successful. Newspaper articles blamed it on insufficient boys willing to play. One reason for this may be because football was well-known for frequent and often severe injuries. If you look at the uniforms and equipment you can tell why. Too few boys on the team made it difficult to practice and scrimmage.
The editor of the Kinsley Mercury seems to have thought poor refereeing was a cause for at least one loss. "Harry Esch, of Dodge City, who was baselessly charged with being a football referee, has gone so far as to admit that he knew something about the rules after the game was over. This indeed is most encouraging." (Nov. 6, 1913)
Kinsley High School did not have a football team in 1918 and 1919 due to World War I. Chester Bidleman returned from the war and coached the 1920 team. He had a distinct handicap in that no one on the team had ever played football. In fact, two of his boys had never seen a football game.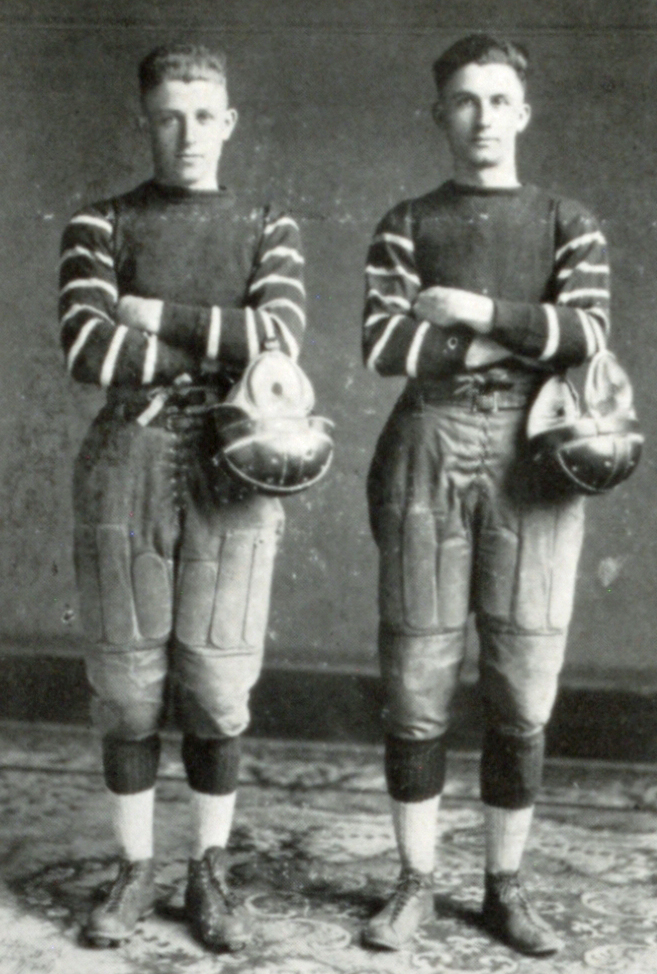 Jim Taylor made a home movie containing a few minutes of a c1937 football practice. His son Eric made it available for the library archive. Watch it here.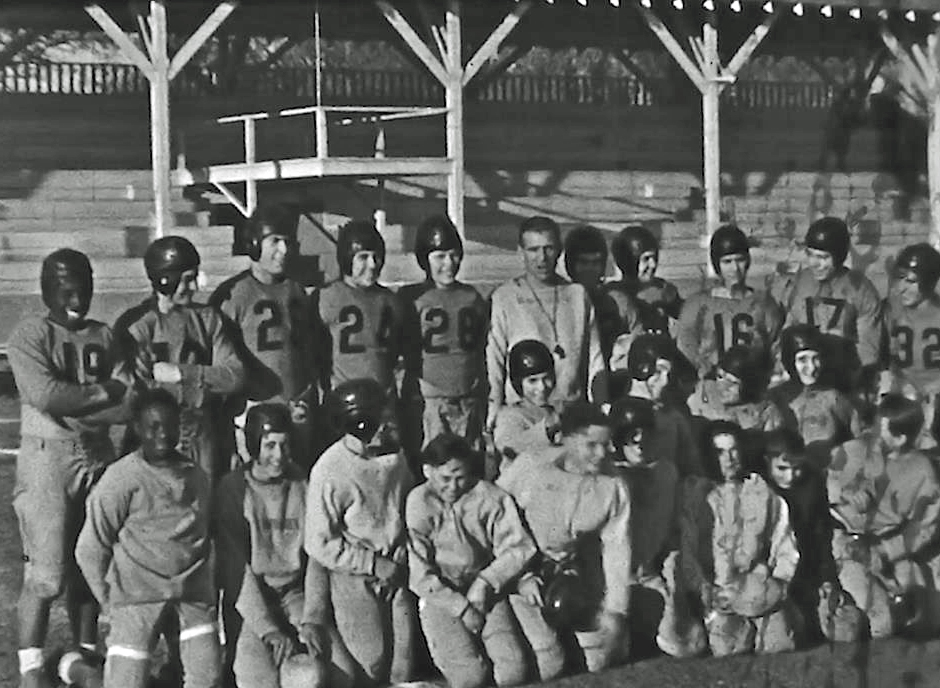 The ensuing years found Kinsley playing seasons hovering on one side or the other of even wins and losses. The 1953 team had the best year since 1923 with 9 wins and only one loss. The 1960 squad had a 7 win-2 loss record, and they earned Second Place in the Pratt Invitational Tournament, Second Place in the District and Fourth Place in Regionals.
In 1980, the football squad made it to the playoffs with a 7-3 record and received the runner-up trophy in the Central Prairie League.
In 1990 the Coyotes were Bi District Runners-up in 3-A.
The best year in history was 1992 with Coach Gene Flax. The Kinsley Coyotes got the furthest in tournaments being District Champions, Bi District Champion, Regional Football Champions, and Sub State Runner Up in 2-1A. I'm familiar with this year as my son, Chris Holborn, was on the team.
The next year in 1993, they had a better record but did not get quite as far, becoming District Champions – Bi District Champions, and Runner Up in Regionals 2-1A. Teams in the league then were: Medicine Lodge, Fairfield, Greensburg, Ness City, Inman, Dighton, St. John, LaCrosse and Meade.
The information in this article was gleaned from newspapers.com (free access for Kansans at https://www.kshs.org/ancestry/drivers/dlverify ) and the Kinsley High School annuals which are accessible on the Genealogy and Local History page of our website www.kinsleylibray.info .
Good luck to this year's team carrying on a proud and determined history of Coyote football.