For several months now, you have been encouraged to complete the 2020 Census. This easy, confidential form is also one of the most important duties that everyone who lives in the United States is required by law to do.
The census results are used to determine how much funding local communities receive for key public services like our hospitals, schools, roads, and more. It also sets how many seats each state gets in Congress and draws the boundaries for congressional, state legislative, and school districts.
Looking back in history, the US Census began in 1790 and has been conducted every 10 years since. Personal information on the census is kept private and confidential for 72 years. Then the information is made available to the public. This makes genealogists and historical researchers very happy. Today, the 1940 census is the most recent one that is available.
An interesting chart was published in the October 7, 1920 Kinsley Mercury. It reported a thirty-year comparison of the growth of population in Edwards County.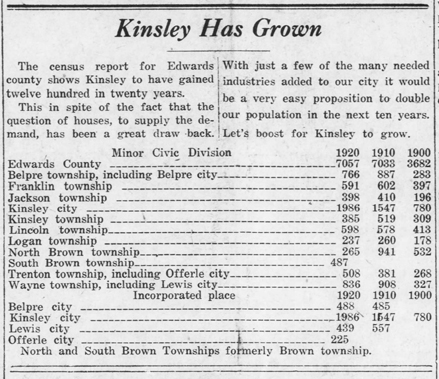 Compare those figures to the U.S. Census Bureau's estimation of Edwards County's population continuing to decline from the 2010 census to become 2,761 this year. Projected population for Kinsley is 1,368, Lewis is 417, and Offerle is 187. It is easy to see why it is so important that everyone be counted this year.
Census information can provide interesting and valuable information about our history. I looked at census records to find out about a couple of famous people with ties to Kinsley.
According to the 1900 census, Madge E. Cummings was one-year old, having been born in Kinsley in May, 1899. Her mother was Alice F. Cummings who was born in Iowa. Her father was Albert Cummings who was born in Illinois and was a "preacher" by profession.
Library files show that Pastor Cummings served the Kinsley Methodist church from 1898 -1901. During this time, the small meeting house was enlarged and improved.
By the 1920 census, Madge has married James Blake and is living in Los Angeles, California. Madge Blake is a name you may recognize. At age 50, she was encouraged by her first cousin, Milburn Stone, who played Doc Adams on the Gunsmoke series, to become an actress. This decision was not approved of by Pastor Cummings.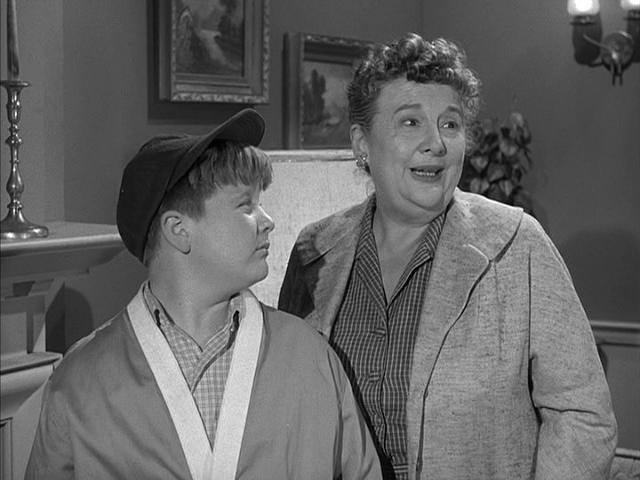 Madge is perhaps best known from her portrayal of Margaret Mondello, the mother of Larry, on the Leave It to Beaver show of the 1950s and 1960s. Madge played over 42 roles in movies and television with an additional 30 guest appearances. She was Aunt Harriet in ABCs 1966 Batman series, Grandpa McCoy's love interest in the Real McCoys sitcom, Mrs. Barnes on the Joey Bishop Show and Mrs. Comstock, the school official, on the Addams Family. Madge died in California in 1969.
Looking in the 1910 census we can find Andrew Mehringer as a farmer with a mortgage in Sterling Township, Hodgman County, Kansas. He and his wife Katie were both born in Bavaria, Germany. They immigrated to the U.S. in 1892, and by 1910 they had eight American born children.
By the 1920 census, we read that Kate and Andrew are divorced. She is now the head of household renting a farm in Logan Township, Edwards County, Kansas. One daughter from the 1910 census is not listed, perhaps she got married, but a nine-year old boy, Peter, has been added to the family. He is the youngest of the children. We can imagine her five oldest sons, ages 15-26, farming to support the large family.
Peter would attend Kinsley High School where he played on the 1926 undefeated football team. While in high school, he sent away for a correspondence course in wrestling, and then he started and coached the school's wrestling team. Although he had to hitchhike to Manhattan, he became the Kansas State Heavyweight Wrestling Champion in 1928 and 1930.
After graduating in 1930, Pete attended the University of Kansas where he won 49 of his 50 matches. He qualified for the 1932 Olympic Games in Los Angeles where he won the Gold Medal.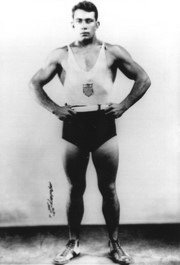 Editor Cora Lewis wrote the following in the August 11, 1932 Kinsley Graphic about six Kinsley boys who traveled to see the Olympics:
"The fact of having one of the world champions, their former school mate in Kinsley, Pete Mehringer, hailed before a crowd of a hundred thousand people, and lifted up on a platform while a thousand-piece band played "The Star-Spangled Banner", Rex Woods, Jr. insists gave him the greatest thrill."
It would take a whole article to tell you about Pete Mehringer but that is saved for another day. He died September 4, 1987 and is buried at St. Mary's Cemetery in Offerle.
You can access your ancestors' census records by going to the Kinsley Library website's On-line Resources from the State Library (right side menu). From there choose Heritage Quest in the History and Genealogy section.
Meanwhile, be sure to encourage everyone you know to complete their 2020 census on-line or by phone (2020census.gov). Don't wait for the census taker to knock on your door starting next week.